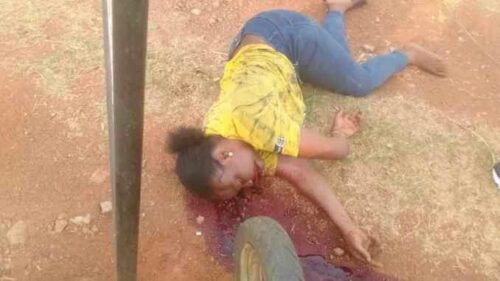 It was a gory sight for staff and innocent pupils of Redemption Model Nursery and Primary School, Ilorin, Kwara state capital Thursday as a mobile policeman, Sergeant Olalere Michael, killed a woman, simply identified as Tosin, suspected to be his mistress.
The cop immediately shot himself and dead inside the school premises.
Blueprint gathered that the incident occurred at about 8:00am at the premises of the Chapel of Redemption (UMCA), Agba Dam Housing Estate, Gaa Akanbi, Ilorin, where Redemption Model Nursery and Primary School is located.
The spokesman of the state Police command, Okasanmi Ajayi, confirmed the incident to Journalists.
It was gathered that the policeman had been on the trail of his deceased female friend around the school premises for some time before the incident.
He was also said to have visited the family house of the deceased female friend located at Erin-Ile road, Gaa Akanbi few days ago to allegedly attack her with cutlass over a misunderstanding between them.
It was also gathered that the deceased MOPOL sergeant had entered the school premises at about few minutes before 8:00am in his brand new Toyota Corolla car earlier than his female friend, who had later brought her daughter to the school.
The police officer was said to have brought out his AK-47 rifle and shot Tosin on the chest three times she died on the spot.
It was gathered that the policeman thereafter stood the rifle on the ground, aimed his throat and used his leg to pull the trigger and his head was blown off with the single shot and he also died on the spot.
Confirming the incident, the Police spokesman said, "At about 08:05 hours of March 2, 2023, information reached the command that a man in police uniform later identified by his uniform and name tag as F/NO 497093. Sergeant Olalere Michael "Male" later known to be attached to 15 PMF, Ilorin went to Chapel of Redemption Agba Dam housing estate in Ilorin and shot and killed a yet-to-be-identified lady, then shot himself in the head and died"
"Immediately after the information got to the command, the Commissioner of Police for Kwara State, CP Paul Odama, psc+, dispatched a team of policemen and detectives to the scene, where the corpses were recovered and deposited at the University of Ilorin Teaching Hospital, where the bodies were certified dead
"The command wishes to state clearly that the deadly incident was an aftermath of love gone sour and that it has nothing to do with police brutality.
"Meanwhile, investigation of this unfortunate incident is in progress, and the report of the investigation will be made public as soon as it is ready," Ajayi said in a statement