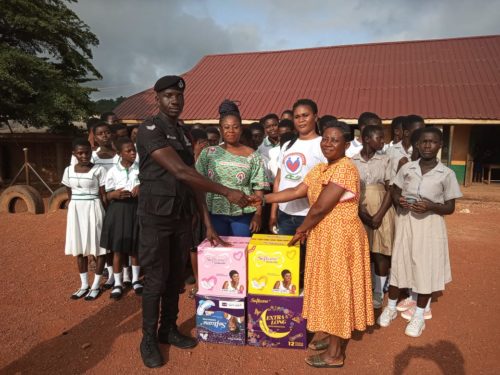 Sargent Sampson Ewuley who is a member of swat unit at Ashanti Regional Police command also the CEO for Ewuley foundation has entreated parents to provide sanitary pads every month as an additional responsibility for their girl-children to relieve them of the need for that menstrual product.
The Police officer donate more than four boxes of pads to girl-children at Amansie South District educational directorate.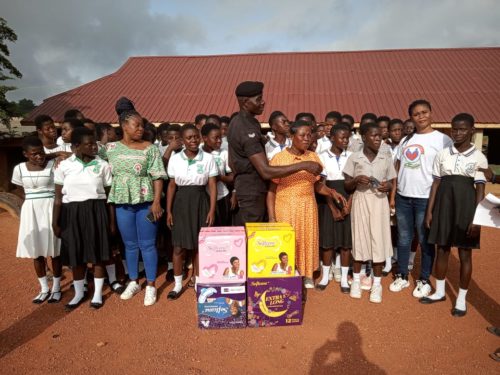 The CEO of Ewuley foundation stated that, menstrual stigma must be stopped, saying the society must also accept and understand that "menstruation is a usual thing" so girl-children should be sensitised against shyness and confidently always stay in school.
He added that, a lot of girls stayed at home during their menstruation period and therefore lost about 23 school days in an academic year which affect their educational performances due to that condition resulting from lack of sanitary pads.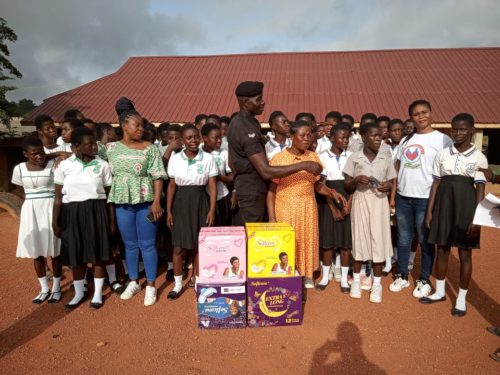 Over the years, The Police officer, Sargent Sampson Ewuley has put the education in the country to his heart.
He donated 10 set of computers to Boaman Adukro JHS, more than 10,000 exercise books, school uniform, shoes to Bosome freho basic schools, Mathematical set was given to selected Amansie South District basic schools, Sekyere Afram Plains got their share etc.
On part of the Amansie South District Education Directorate, Mrs. Victoria Botah who is in charge of Gender, shows profound gratitude to the Police officer Sargent Sampson Ewuley for his kindness.