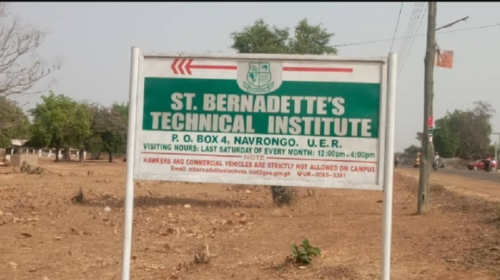 The Navrongo Municipal Police Commander ASP Kingsley Kanda and three of his police officers have been hospitalized at the Wa Memorial Hospital in Navrongo after clashing with students of St. Bernadette's Technical Institute in the Upper East Region.
The Commander is reported to have suffered a broken leg injury, and the three other officers also suffered various degrees of injury.
Narrating the incident, the Municipal Chief Executive of the area, Joseph Adongo stated that, they were called to the school to bring students-management misunderstanding under control.
However, during the operation, the Municipal Police Commander and three of his men incurred their injuries and they had to be admitted to the hospital.
Speaking on the issue, the Chief Executive explained that the students on Saturday 13th, May 2023 wanted to play an inter-ethnic football match between students from different schools, but were prevented by the school authorities.
The students resisted the directive by the management, which resulted in a clash with the management of the school.
It is reported that the students couldn't come to terms with the decisions of the management, and as a result, the Police had to step in to restore calm to the school.
He added that 27 of the students have been arrested and arraigned before the court as of Monday, 15 May 2023.
Meanwhile, the school has been closed down indefinitely.