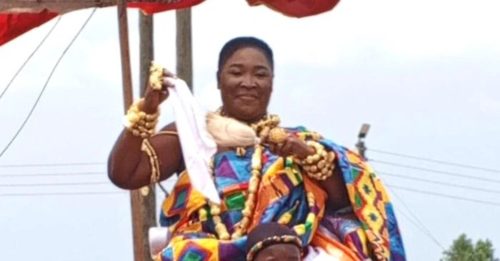 A Level-400 Communication Studies student of Pentecost University (PU), Mrs Victoria Adotei, has been enstooled as Queen Mother for the Gomoa Aboraa community near Apam in the Gomoa West District of the Central Region, under the stool name Nana Ama Ankowaa II.
The coronation ceremony, which took place on Saturday, August 8, 2023, at Gomoa Abora, was part of the activities marking the 2023 'Ahobaa Kese' (path clearing) festival and sod-cutting for a community centre project.
Nana Ankowaa II, 46, is a weekend student at the university and works at the Ghana Airport Company Limited.
In his address, Apostle Johnny Lartey Peprah, Registrar of the Pentecost School of Theology and Mission (PSTM), who represented the Vice-Chancellor of the University, Apostle Prof. Kwabena Agyapong-Kodua, charged the new queen mother to consistently recognise and trust God as the source of her authority to make her reign impactful.
"With the values PU (University A+) has imbibed in you, we expect your integrity, charisma and conduct to be godly to promote godliness in the community while serving as a role model to the young women," he said.
He added: "PU is proud and glad to celebrate your coronation with you."
Apostle Peprah used the opportunity to invite the traditional leaders of the Gomoa traditional area to enrol in the University's tailor-made Certificate in Chieftaincy Course to enable them to acquire knowledge in contemporary governance, especially at a time when the chieftaincy institution was in a conundrum.
Amidst pomp, pageantry and the display of culture resonating through the lens of custom, tradition and modernity, Nana Ankowaa swore her oath of allegiance with a pledge to ensure the town's development.
Also in attendance were Pastor Kofi Boateng (Winneba Area Chieftaincy Ministry Coordinator of The of Pentecost), Overseer Daniel Adams (Aboraa District Minister), Mrs Miriam Annan (Head of Communication Studies Department, PU), Mrs Margeret Dowuona-Hammond (Lecturer, PU), Mr Sammy Amofa (Lecturer, PU) and some students from the communication studies department.
The PSMT Registrar, on behalf of the University, donated GHS 1,000.00 to support the construction of a community centre.