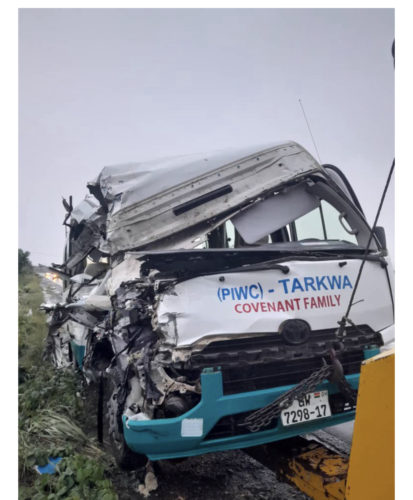 The incident occurred at Gomoa Otsew, leading to immediate responses from emergency services and authorities.
According to the driver of a Man Diesel truck who was en route from La Cote D'Ivoire to Accra, upon reaching Gomoa Otsew, a car attempted a wrongful overtaking and abruptly cut in front of the truck, seemingly to evade an oncoming vehicle.
In order to avoid colliding with the recklessly driven car, the truck driver swerved, entering the lane of an oncoming Nissan Navara.
The ensuing collision caused the truck to lose control and veer off the road into the nearby bush
Tragically, the back trailer of the truck remained on the road and collided with the front side of a Toyota Coaster bus, carrying 22 members of the Church of Pentecost
The Coaster bus was en route from Accra to Tarkwa.
The impact of the collision resulted in the immediate death of one member, who tragically fell from the Coaster bus and was subsequently run over by the truck