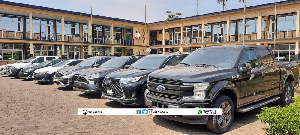 The US Embassy in Ghana has noted that collaborations with Ghana's Economic and Organised Crime, the US Department of State INL, and the FBI have revealed that over 100 luxury vehicles have been stolen from the US and Canada.
In a tweet on May 9, 2023, the embassy noted that "their work and @StateINL's upcoming donation of asset-recovering equipment to @EOCOghana will ensure that international criminal organizations do not benefit from theft, fraud, and corruption."
Earlier, an investigation by Mariana van Zeller for the National Geographic Channel exposed a car smuggling syndicate traced to Ghana.
The investigation which was published in a video started in the United States of America where the investigative journalist followed the activities of a gang who are into stealing luxury cars.
Some of the gang members who spoke to van Zeller explained to her how they undertake their activities and the structure of the international crime syndicate where cars stolen on the streets of America end up in third-world countries such as Ghana.
van Zeller travelled to Ghana to meet some of the local players.
She met a hacker/black market trader and another person who handles the business aspect of the enterprise.
The two gave the journalist insights into the local trading of stolen cars and how they are able to get the cars into the Ghanaian system without raising any red flags.
SSD/FNOQ
Source: www.ghanaweb.com