The Student Representative Council (SRC) of the Ophthalmic Nursing School at the Korle Bu Teaching Hospital is partnering with the 3 Foundation to screen all men at Media General on Friday, June 16.
The event forms part of the Father's Day celebration which will be taking place on Friday and also part of the SRC week celebration of the School.
Speaking in an interview with 3news.com on Wednesday, June 14, a lecturer at the School, Rosaline Bakudie said "The Ophthalmic Nursing School in partnership with the 3 Foundation wants to make noise about Father's Day.
"What we have noticed is that our fathers are so busy that they don't even think about themselves healthwise. They leave home very early and come very late and some even eat at a late hour which has effects on their health.
"So we want to use this occasion to screen the fathers here at Media General for diabetes and their eyes because diabetes affects the eye. For women, we normally take care of ourselves, what we eat we are cautious about it but men eat anything so we just want to throw light on this caution for the men so that we create the awareness that they need to take care of themselves, it is not all about chasing after money, you need to take care of yourselves as well. So we will be having the screening on this compound on Friday."
Excellence and Leadership Awards
President of the Student Representative Council, Oppong Kwaku Davis asked all fathers at Media General to make it a priority to take part in the screening exercise.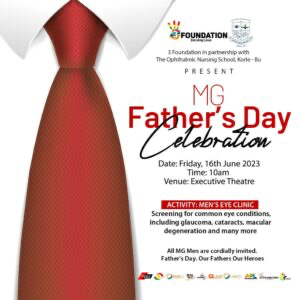 He said "We want to invite especially the fathers at Media General to come for their eyes to be screened….those with issues will be referred to the appropriate quarters for them to be taken care of."
He added "We are also doing this to mark our week-long activities, we have our SRC week which will commence on the 19th and end on the 25th. As part of our week-long celebration, we are starting with Media General to do health screening. So on Monday, we will have our launch and our float, we have some important dignitaries we have invited them. We have the Director for Nursing and Midwifery Servivem Dr Baranbas Kwame Yeboah at the Ministry of Health who is our chair for the occasion Deputy CEO, Operations at the National Health Insurance Authority (NHIA) and others."
The SRC Organiser Kpewu Dennis, also said "It has been hectic planning all these but we thank God it has been a success, we are starting the week-long event in partnership with 3FM with the health screening on Friday, and then on Monday we can start the programme.
"On Sunday we will climax it with the thanksgiving service. So we invite everybody to join us and celebrate with us for a successful programme."