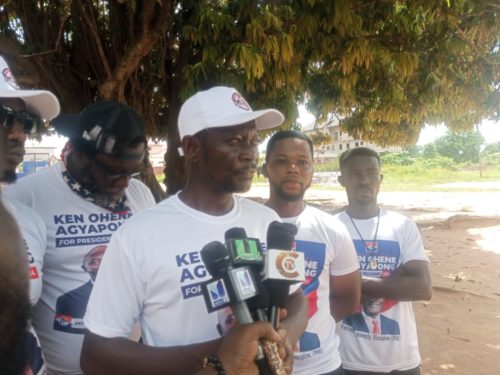 Mr Kofi Adu, popularly known as Agyakoo has lambasted those peddling lies against Kennedy Agyepong prior to the November 4, Presidential elections of the ruling New Patriotic Party.
Indicating, those intimidating sympathizers of Kennedy Agyepong will weep on November 4, after the flagbearer race.
Those people intimating our members, peddling falsehood, taken money from the Vice President will live to regret because our members are focused and will vote massively for Kennedy Agyepong on November 4.
Members of Kennedy Agyepong are focused and determined,no words of intimidation, back biting can stop us.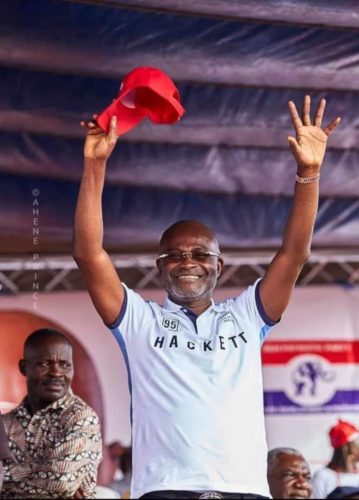 Kennedy Agyepong has done alot for the betterment of the NPP but today some selfish NPP members want his downfall but they will never succeed.
NPP will write history on November 4 because Kennedy Agyepong will pull surprise ,mark my words.
Kennedy Agyepong has already employed over 7000 youth though he's not the President of the land,how many people do you think he will employ if he's elected President of the land with all the necessary resources?
Kennedy Agyepong is a game changer,well resourced, development oriented and has the ability to serve."Agyakoo made this known during a showdown walk organized by constituency Members belonging to the camp of Kennedy Agyepong today at the Constituency.
Coordinator for the Walk,Mr Godsbrain James Nantwi, explained , canvassing votes and ensuring victory for Kennedy Agyepong in November 4 was the reason behind the walk.
He was however not happy about the activities of Hon Osei Kyei Mensah Bonsu and Dr Ayew Afriyie, MPs for Suame and Sekyere East Constituencies respectively for their continue campaign against Hon Kennedy Agyepong in the Kwabre East Constituency.
Indicating that, their continuous support for Dr Mahamodu Bawumia is due to the fact that all roads in their constituencies are all asphalted but theirs are lacking.
He however entreated members of Kennedy Agyepong to vote massively for him come November 4 for a better future.