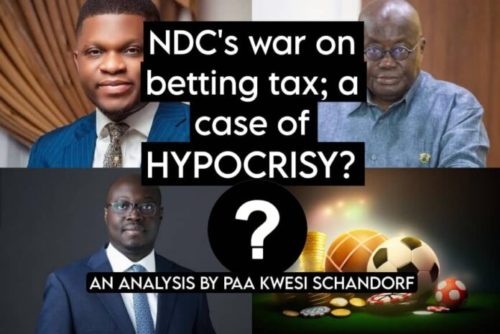 'God first'! That's what they say, isn't it? And so, anytime I wake up from bed, the first thing that occupies my time is my morning devotion; involving a brief session of prayer and Bible study.
After this, I surf the internet for the latest news stories. Of course, as a journalist, I always want to know the trending items, and that's why surfing for news in the morning has become a ritual.
When I'm done reading a few top stories, I move on to other things, including plans on what to eat for the day. But the unique thing about today's news surfing was that, I came across a particular story, that has still kept me engrossed!!! Indeed, as I write this, I'm still thinking about the story.
One may ask, 'what was the story about'? Was it that Chelsea is now a better team? Or was it that Cecilia Dapaah has found her missing cash? Indeed, it wasn't even about the fact that the Cedi has finally knocked off the dollar. At least stories like these can be in one's mind for longer.
However, the story that has had me still thinking is the NDC's reported stance on betting. In a statement by the party's National Youth Organiser, George Addo (Pablo), the NDC stated that it is opposed to government's decision to impose a 10% tax on the earnings of bettors.
According to the party, the move by the Akufo-Addo regime smacks of corruption, hence their resistance. The party went ahead to say that given its opposition to the new tax measure, it will embark on a series of protests and other civic engagements to register its displeasure.
Like my friends at the Ghana School of Law at Makola will say, 'on prima facie' (that is, on the face of it), it looked like the NDC's position is a heroic fight for the youth; many of whom have resorted to betting as a means of survival due to the depressing canker of unemployment.
A few years ago in Ghana, betting was not a popular venture. Top-flight fixtures like Man United versus Liverpool were for sheer entertainment without any monetary investments whatsoever. We all watched such games for the love of soccer and for the pride of seeing your team win.
However, in recent times, many football enthusiasts in Ghana don't only enjoy the game of soccer. They also stake bets on them; especially the youthful unemployed population. For many of them, that's how they get their daily breads, hence their widespread resentments on platforms such as Twitter, against government's decision to tax their gains. They are simply livid and incensed!!!
As a result, the statement from the NDC's Youth Wing appears to be a message of solidarity and hope, designed to rescue the agitated betting fraternity from the 'oppression', government wants to visit on them. But can the NDC's statement be said to be a credible fight for bettors?
The issue of credibility has come up because of two pieces of evidence which seem to blatantly contradict the party's stance against government's 10% tax on betting. The first evidence is an interview by the NDC's National Communication Officer, Sammy Gyamfi, and the second is a comment by the NDC's current Minority Leader in Parliament, Dr Cassiel Ato Forson.
In two separate engagements, these two party stalwarts seem to have made comments that contradict the party's current position on betting, and in the next few paragraphs, I shall attempt to examine their comments in the light of what the NDC is presently saying now on betting.
Speaking on the Ultimate Sports Show on Asempa FM some time ago, Sammy Gyamfi, while suggesting measures for government to raise revenue, hinted that if given the nod, the NDC will consider policies such as the imposition of levies on sports betting.
Speaking in the local Twi dialect, he indicated as follows, "We will introduce a levy; not a task. We're looking at something like sports betting. Which levy can we put on sports betting like the UK did to fund its Olympics? How can we use a levy in betting to generate revenue to augment the sports development fund?"
Now for the records, a levy is materially different from a tax. Additionally, in a WhatsApp clarification purported to be coming from Sammy Gyamfi, he explained that his comments were in reference to the imposition of levies on betting companies and not on betting individuals.
Given that taxes are not the same as levies; and owing to the fact that Sammy Gyamfi says his comments were not in reference to betting individuals, one may want to argue that, the NDC is truly sympathetic to the youthful betting community, hence its current stance against government's 10% tax is not a case of double standards, despite Sammy's mention of levies.
However, if a betting company is levied, that levy may have an impact on its overall administrative costs, and the company may want to spread that cost across its betting terms, including the wins of bettors. Eventually, won't the youthful betting community still be affected? Is it not therefore 'strange' that the party that plans on imposing levies on betting companies that can potentially affect bettors is now against a 10% tax on the earnings of bettors? Where's the difference?
The next, and perhaps, more compelling evidence against the NDC's current stance on betting is a comment by Dr. Cassiel Ato Forson, who is now the party's Minority Leader in Parliament. Speaking in an interview on JoyNews' PM Express on Tuesday, 15th March, 2021, Ato, who was then the Ranking Member on Parliament's Finance Committee called for a ban on betting.
"Ghana today, we are complaining that this gambling is destroying our youth. I have read a number of articles on this. I would have thought the government will come out with a policy to restrict gambling and to even ban it", he said.
The question then arises; how is it that a party which seemed completely opposed to betting and advocated for its ban, is now sympathising will bettors whose earnings from bets will be taxed by 10%? It's like a woman's who completely denies her husband sex and another one who says she'll give him sex only once a week. Which of these two women can be termed as more friendly to the husband? This is why for some, the NDC's call for government to abolish the 10% tax on betting is a 'hypocritical' move, when a leading member of their outfit had once spoken about betting being banned completely!
Well, earlier this year Dr. Ato Forson said that the references to his 2021 call for a ban on betting should be disregarded. Is that a case of flip-flopping? The deduction of hypocrisy or otherwise on the NDC's stance on betting is for you to make. But whatever the case, youth unemployment, when tackled may solve all of these contentions.
The author of this piece is a writer, a journalist and a corporate MC. You may reach him on (+233) 273141821