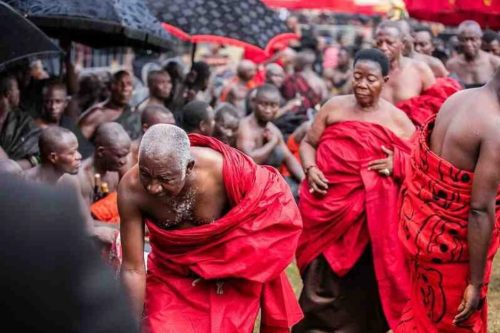 Chief of Agona Swedru, Nana Kweku Essieni(V) has banned the wearing of special clothes and the sharing of foods during funerals in the township of Agona Swedru.
According to him, during funerals several individuals do pay huge sums of money to get themselves the same clothes with each other. He believes that the money used to purchase these specialized clothes could be used to pay the fees of their wards.
Aside this, the Chief added that the sharing of foods at the funeral grounds is also banned. He is not against the sharing of foods, however, he is against the sharing of food at the very place the funeral is ongoing.
He believes that it is better to share the food at home instead of sharing it at the funeral grounds.
Nana Kweku Esseini (V) made this announcement during the commemoration of the centenary anniversary of the Agona Swedru St Anthony Catholic Church.
He said the purpose behind this decisive action was to encourage families to allocate the funds typically expended on these customs towards the education of surviving children.
The Acting Chief emphasized that anyone found violating this bye-law would be subject to a penalty of GHS 3,000, along with a requirement to offer a sheep and schnapps as restitution.
While the traditional council did not prioritize the financial penalty, they did stress the importance of strict compliance.
Responding to this directive, His Grace Rev. Charles Gabriel Palmer-Buckle, the Cape Coast Metropolitan Archbishop, expressed his endorsement of the initiative, deeming it a progressive move.
He voiced his concern regarding the substantial financial outlay that Ghanaians often commit to funerals.
Following this new bye law in Agona Swedru township, several individuals have heaped praises on the new chief. They believe that the chief's decision is a wise one.
According to some, wearing of special clothes during funerals create unnecessary competition among each other. Since everyone is doing it, individuals who are not financially stable will also try and do some. This create unnecessary burden on them and therefore prevents them from performing their duties as parents.