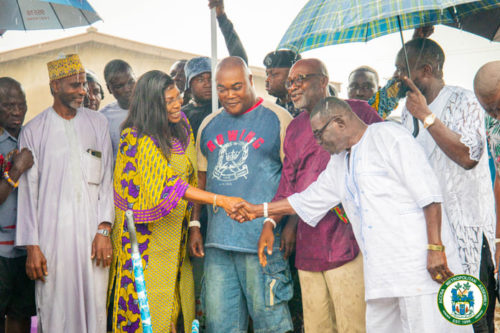 The Chief Executive of the Accra Metropolitan Assembly (AMA), Elizabeth K.T Sackey, has cut the sod for the construction of a multi-purpose abattoir in Accra to serve as a major hub for the preparation of animals for public consumption.
The facility, to be completed in 12 months, consists of an offloading bay, a veterinary, changing rooms, a store, washrooms, freezing bays, a slaughtering and slamming area, cattle lairage, an animal drinking pond as well as a kraal to house the animals until they were examined by a veterinary officer before slaughtering among others.
Speaking during the ground-breaking ceremony on Wednesday, the Mayor of Accra who was accompanied by the Metro Coordinating Director of AMA, Mr. Douglas N.K Annoful and some other staff of the Assembly said the slaughterhouse when completed would guarantee the production of wholesome meat and public health.
She added that the Assembly had a series of stakeholder engagements prior to the sod-cutting ceremony to ensure the facility to be constructed would be fit for purpose.
She was optimistic about the prospect of job creation for the people of Jamestown and Accra.
" We are very serious about this work because our children and siblings in this neighbourhood will get jobs to do… They will all get work to do to improve their economic lives," she said.
She was hopeful that the facility when completed would position and restore the area to its original status as a major meat hub in the metropolis and beyond.
Ngleshie Sei Wulomo, Nii Ayite Konko V who was elated about the project expressed appreciation to the Mayor for the idea to revive the slaughterhouse and pledged support towards the project.
Present at the event were, members of the Butchers Association for London Market, representatives from the Ngleshie-Alata Traditional Council and Ga Traditional Council among others.