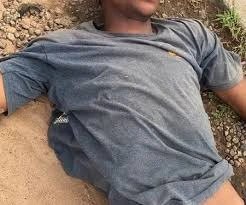 The deceased, a driver, went to the supermarket on Friday, February 24, to purchase some items for his employer.
There was drama at a supermarket on Admiralty Way, in the Lekki area of Lagos State after a man slumped and died while fighting over parking space.
Punch stated that the deceased, a driver, went to the supermarket on Friday, February 24, to purchase some items for his employer when the incident happened.
He was however instructed to park his vehicle properly by a staff member of the supermarket but he decided to park somewhere else. An eyewitness, Tunji Gafar, said this led to an argument and a fight ensued between both of them.
Gafar said, "The man came to do some shopping for his employer and by the time he was about to park, a staff of the supermarket who coordinates the parking space directed him where to park, but he refused and went ahead to park somewhere else.
"The staff member then approached him to park properly as instructed, but the driver declined. This degenerated into a confrontation as they both engaged in a fight. This drew the attention of one of their supervisors in the supermarket that came to intervene.
"By the time he got to the scene, the driver had already collapsed. When they discovered that the guy did not stand up on time, they started to pour water on him but he did not respond."
Gafar added the female domestic staff who came with the driver claimed that the staff used something to hit him.
He said, "When we rushed to help the man, a female domestic staff that came with him kept saying that the staff used something to hit him. Although the staff insisted that they did not engage in any fight, they only shouted at each other before he slumped.
"We later ordered a taxi and took the driver to a nearby hospital. When we got there, he was referred to another hospital. It was when we got to the second hospital that he was confirmed dead."
A staff member of the company who did not want his name mentioned said the late driver's employer rushed down to the supermarket some hours after the incident and threatened to arrest the workers.
He said, "The employer of the driver came here later in the day and by the time he arrived, he started to threaten us with arrest. He said he was a regular customer at the supermarket and that his employee did not deserve to be beaten.
"He also demanded CCTV footage of what happened between them but there was no one to operate it that evening."
Meanwhile, the supervisor simply identified as Bilal and the staff were arrested and taken to Maroko Police Station
The Lagos State Police Public Relations Officer, Benjamin Hundeyin, confirmed the incident.
"Yes, the incident happened. The case has been transferred to the State Criminal Investigation Department in Yaba," he said.