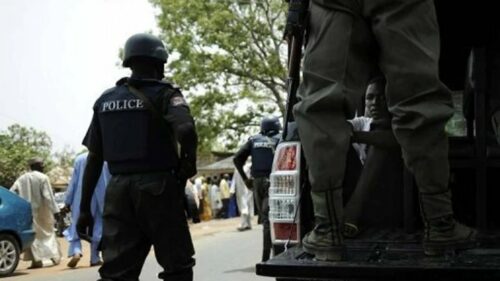 A fight broke out between one Rafiu Akinwale, and his girlfriend at a funeral held at the International Cultural and Event Centre, the Dome in Akure, Ondo State capital, during which a man, Prince Adesoji Adesida was pushed to death.
Akinwale, who also came to the funeral, was reportedly beating his girlfriend over an accusation that she was exchanging phone numbers with another man.
It was gathered that an attempt by Adesida to prevent Akinwale from beating the girlfriend did not go down well with the OPC member, who out of anger, reportedly pushed the prince.
The prince was said to have slumped.
An eyewitness, who spoke on condition of anonymity, said the victim was rushed to the hospital where he was confirmed dead.
"But I learnt that the suspect has been arrested by the policemen at Ala station in Akure," he added.
Confirming the incident, the spokesperson of the State Police Command, Funmilayo Odunlami-Omisanya, said investigation was ongoing on the case.
She added that the suspect was still in police custody where he was being interrogated by detectives.
A cousin to the deceased, Prince Stephen Adeyinka Adeyinka, also confirmed the incident in a Facebook post on Monday, May 1, 2023.
He wrote,
"Prince Adesoji Adesida was killed in Akure by an OPC member Rafiu Akinwale (a.k.a Slow) from Ibadan last Friday during a funeral ceremony of our beloved family member.
"He was arrested by by the police DPO at Ala, Akure,
"However OPC is trying to get him out of the police without him facing the full extent of the law.
"Please help us spread the message so OPC does not get away with this murder of a peacemaker Prince Adesoji Adesida.
"Thank you.
"Soji is my cousin.
"He is ex ife nickname Stag.
"Please help any way you can to get him justice.
"OPC are trying to get the assailant out of custody and to evade Justice."