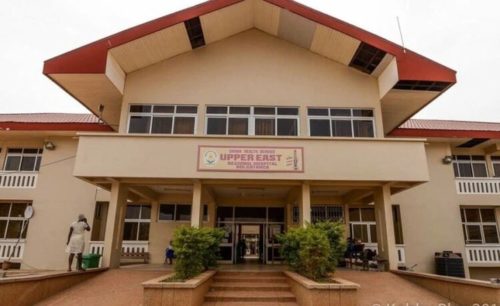 It was a terrible scene yesterday, at the Bolgatanga East Regional Hospital, after a male patient tragically passed away in the emergency ward. Apexnewsgh.com report
This sudden loss deeply affected the other patients, who found themselves contemplating their own chances of survival in the same ward.
According to reports, the patient had been urgently admitted to the hospital the previous night and was promptly placed on oxygen support in the emergency ward. But during the early hours of August 31, 2023, the supply of oxygen to the patient unexpectedly ran out and needed to be replenished.
Speaking to Apexnewsgh.com about the horrible situation, a Social worker with Mama Laadi Children's Home Hon. Gabriel Ayine who also doubles as an eye witness said, the hospital official in charge of the supply of Oxygen was not on duty to supply Oxygen when the patient's condition started deteriorating.
Hon. Ayine said calls were placed severally to get the officer in charge to supply Oxygen, and when they got him on the phone, he claimed has had made provision for enough Oxygen and couldn't understand why there should be a shortage. "So, he directed us to check at some two wards, but when we checked, there was no Oxygen. We tried calling but it got to a time when we called, his phone cannot be reachable".
However, early morning of September 1, 2023, a patient's battle for breath came to a tragic end due to the unavailability of much-needed medicine. The patient had been struggling for some time, desperately pleading for his life to be saved. It was around 4:30 am when he tragically succumbed to his condition, leaving his fellow patients in the ward distraught and filled with despair.
Witnessing this heartbreaking scene, Mr. Ayine, recounted how some of the patients were unable to bear the sight and had to struggle out of the ward. The emotional toll was evident as others in the vicinity burst into tears, overwhelmed by the loss of the innocent patient.
In January 2023, this platform reported the incident when the attention was drawn by a patient who was not with the situation at the time.
The patient complained that it is very dangerous for a hospital to rely on an individual who sells these products like oxygen in their own capacity.
However, when this platform contacted the regional hospital Administrator Yakubu Zakaria he confirmed the unfortunate development but insisted that engaging private suppliers is what they could do to support their patient at a time.
"Oxygen is a product like any other product we use in the hospital. So, when you come and oxygen is put on you, you pay for it. You don't pay the full cost, just a portion of it".
According to him, the hospital doesn't produce Oxygen: "We don't produce oxygen ourselves, we go outside to buy either from Kumasi or Tamale depending on how quickly we can get it.
"If you are not holding money, the person selling the oxygen will not give you, we don't produce and this is a lifesaving commodity, if the person doesn't get the oxygen, he or she will die in a very short while". He stressed
"So, you asked yourself, National Health Insurance has paid you up to April 2022, we are in January 2023. So, if you have to wait till health insurance pays you before you buy, it means you are just going to be shifting people to their graves. So, we thought it wise that, instead of saying we don't have it, let's look for a way of putting the cost on the patient. So that we gather the money when it finishes we can buy and come and continue using. He said
He added, that other hospitals will tell you they don't have and sit down because not everybody takes life seriously. So, we will continue support to continuously get oxygen so that lives can be saved. The hospital Administrator assured
According to exclusive information obtained by Apexnewsgh.com, the Oxygen plant machine at the office of the Regional Fire Service in the Upper East Region is currently sitting idle. In light of this, it would be wise for the management of the Regional Hospital to approach the Regional Fire Service and request the release of their unused Oxygen plant machine. This crucial step will greatly contribute to saving more lives in the interim.