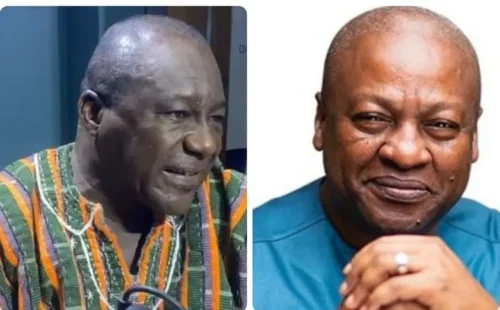 The General Overseer and founder of the Hezekiah Prayer Ministry, Apostle Kwabena Owusu Adjei, has prophesied that former President John Dramani Mahama will not survive even if elected President of the republic in 2024.
He reiterated that if the NDC files Mahama s its presidential candidate, the NPP will break the 8-year jinx.
"John Mahama is the foundation for the NPP to break the 8," he said. Because of the Nigerian pattern, if Mahama is elected as a presidential candidate, the NPP will break the 8," he told host Kwabena Agyapong.
He claimed that spiritually, John Mahama had been rejected.
Meanwhile, he has set two conditions for the NDC to win the elections in 2024.
The first condition is that Mahama should not run for office but instead campaign for the NDC and that he should remain a statesman for Africa.
The second option comes with a risk, he said, because the candidate Mahama must choose a running mate from the Volta region, but if he wins, he will not be able to stay in the presidency.
He also disclosed that the candidate that can win NDC power in 2024 is Leslie Mensah Tamakloe.
"That order is from above, and it can never change. He [Tamakloe] is the only person that can win power for the NDC," he added.