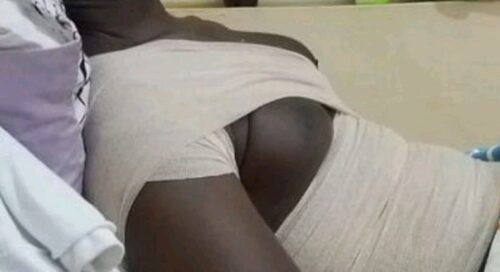 A Ghanaian landlord has been hospitalized after being beaten to a pulp by his tenant who caught him half-naked with his wife in the bedroom.
The landlord, identified simply as Isaac, is receiving treatment at the hospital, adomonline.com reports.
According to the news website, the tenant, Amos Gyamfi, a 39-year-old man, narrated that he rented a single room for his wife, a nursing mother at Bibiani-Hwenaampori while he was miles away in another municipality of Bibiani Anhweaso Bekwai in the Western North Region.
He added that the wife had complained of ill health, so he decided to visit her and their months-old baby only to find the landlord and his wife in an uncompromising position.
"His knocks were unanswered, despite receiving a hint from a nephew of the landlord that his wife is present at home.
"Gyamfi said he proceeded to head home, but the suspicious attitude of onlookers prompted him of shady activities.
"He forced open the door only to discover the landlord and his wife seminude and enjoying each other's company.
"He dragged them out in their half-naked state before beating the landlord mercilessly.
"The landlord fell unconscious and was rushed to the Bibiani Government Hospital where he is receiving treatment," adomonline.com reports.
In an earlier report, angry residents of Abura Dunkwa in the Central Region arrested a former prison officer, stripped him naked and beat him so severely that it was only the swift arrival of the police that saved his life.
The incident reportedly took place on Saturday, April 22, 2023.
The suspect who is said to be an ex-convict was accused of stealing a sack full of cooking utensils and building materials.
Reports say he was a staff of the Ghana Prison Service but was sacked from service for alleged criminal conduct.
Before his arrest by the residents over the cooking utensils, he had stolen building materials from a nearby shop, which he had hidden somewhere. He led the residents to where he'd kept the items and handed them over.
It is reported that officers from the Abura Dunkwa Police Station got wind of the suspect's lynching and arrived just in time to save him from the angry residents. He was then taken into custody to assist in an investigation into the matter.
The stolen materials were reportedly returned to their respective owners.