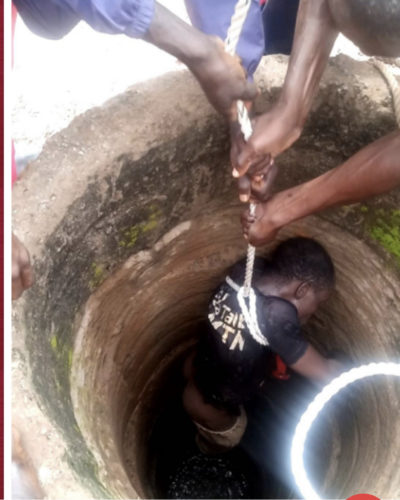 The Kwara State Fire Service has successfully retrieved the remains of a 43-year-old man who tragically fell into a residential well located in Ilorin West Local Government Area of the state.
Hassan Hakeem Adekunle, the Head of Media and Publicity for the fire service, confirmed the incident through an official statement. According to the statement, the brigade received an emergency call from a concerned individual named David on the morning of Tuesday, September 5, 2023.
The statement reads: "Today, Tuesday 5th September, 2023, a man of about 43-year-old called Mr. Abdulqadir Muritala of Oniguguru compound in Oko-Erin area of Ilorin, Ilorin West Local Government Area Kwara State, fell into a residential well and was found lifeless behind Global primary and secondary school, Bayi Community agbejila area, Ilorin."
"This tragic incident occurred this morning at approximately 10:30 AM (10:30hrs), and the Brigade was alerted via a telephone call by Mr. David, who resides in the vicinity."
"Firefighters promptly responded to the emergency, successfully recovering the deceased from the well. Subsequently, the remains were handed over to Mr. Mohammed Abdulwasiu, a family member of the late Mr. Muritala."
The Director of the Kwara State Fire Service, Prince Falade John Olumuyiwa, expressed deep sorrow over the unfortunate incident and urged the general public to exercise caution in their daily activities. He specifically emphasized the importance of avoiding the use of underage children for fetching water from residential wells, promoting safety and wellbeing for all.