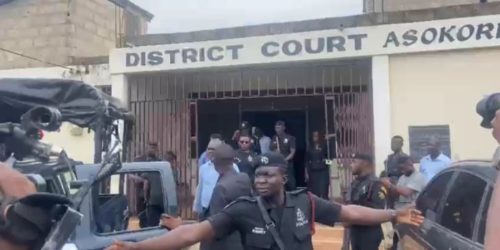 Embattled police officer, Inspector Ahmed Twumasi, is expected to make an appearance before the High Court in Kumasi today, August 28.
He is facing trial for the alleged murder of his girlfriend, Victoria Dapaah, also known as Maa Adwoa at Adum in Kumasi.
A seven-member jury has been constituted to carefully consider all the facts presented during the trial.
During his second court appearance, the accused maintained his plea of not guilty.
Consequently, the court directed the state attorneys handling the case to submit witness statements in preparation for the case management conference.
To expedite the trial process, the presiding judge, Her Ladyship Rosemary Baah Tosu, has declared her intention to serve as a vacation judge.
This decision allows the case to be heard even during the legal vacation period.
The Asokore Mampong District Court in the Ashanti Region on May 31, for the second time remanded a police inspector for the alleged killing of his girlfriend, Victoria Dapaah.
26-year-old Victoria Dapaah also known as Maa Adwoa was allegedly killed by her boyfriend, Inspector Ahmed Twumasi on 20th April 2023 at Adum, a few meters away from her house.
During the first court appearance, the suspect confessed to committing the act but insisted that it was not his intention to kill "his lover".
Appearing before the court for the second time after being on remand, the suspect has been formally charged with murder as the prosecution has received advice from the office of the Attorney General.