As part of its corporate social responsibility, the College of Health Sciences (CHS) at the Kwame Nkrumah University of Science and Technology (KNUST), Kumasi, has embarked on a week-long donation exercise to supply Personal Protective Equipment (PPEs) and other essential products to 22 Health Facilities serving as teaching sites for its students.
The exercise, held between 9th -15th June 2023, was a response to the increasing demand for PPEs, resulting from the growing number of students pursuing health-related disciplines.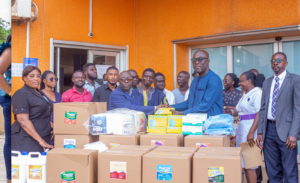 Among the external teaching sites that benefited from this donation exercise were Suntreso Government Hospital, SDA Hospital Kwadaso, Emena Hospital, Hope Xchange Medical Centre, KNUST Hospital, Asokwa Children's Hospital, Atonsu Agogo Government Hospital, Pramso Hospital, Manhyia Government Hospital, Tafo Government Hospital, Maternal and Child Health Hospital, VSD Clinic Amakom, VSD Lab Amakom, Kumasi Abattoir Company Limited (KACL), Komfo Anokye Teaching Hospital (KATH), Wiamoase Government Hospital, Salvation Army Hospital, Ejisu Government Hospital, Juaben Government Hospital, Onwe Hospital, VSD Clinic Ejisu, and Agogo Presbyterian Hospital.
On behalf of the Provost of CHS, Professor (Mrs.) Victoria Bubunyo Bam, the Head of the Department of Nursing, emphasised the enduring support and partnership between the College of Health Sciences and the external teaching sites. She noted that these facilities play a vital role in providing practical training for KNUST students and therefore the need to donate the items to alleviate the shortage of PPEs. "As the number of students continues to rise, the utilization of resources also increases. Thus, such donations become imperative in addressing the shortages they face", she added.
The recipient hospitals expressed profound gratitude to the College of Health Sciences for such an initiative and hoped this donation would foster a stronger bond between their institutions and KNUST.
The donated items comprised a range of high-quality products, including Pharmaclean multipurpose soap, Pharmaclean hypochlorite, Pharmaclean antibacterial soap, Pharmafresh floor cleaner (highly perfumed), Pharmacet (Salvlon) concentrate, Pharmatol (Dettol), Pharmafect (bleach with soap) and Pharmastain remover, all produced by the Faculty of Pharmacy and Pharmaceutical Sciences. Other items include sanitizers, methylated spirit, and hand rubs.
The donation exercise was led by Faculty members, namely Professor Victoria Bubunyo Bam, Head of the Department of Nursing; Professor Daniel Ansong, Dean of the School of Medicine; Professor Akwasi Antwi-Kusi. Vice Dean of the School of Medicine and Dr. Joseph Atawalna, Vice Dean of the School of Veterinary Medicine.