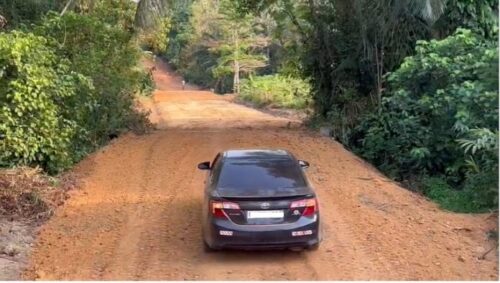 Few weeks after a promise to cocoa farmers, pregnant women and ill persons who were in difficulties in and around towns such as Tweako 1, Tweako 2, Bentilbo, Kwaw-Grumah and Navrongo in the Jomoro District of the Western Region to repair and reshape their deplorable roads, the Member of Parliament, Dorcas Affo-Toffey, has redeemed her pledge.
The 17-kilometre road links these communities to towns and villages but the deplorable nature compelled most activities to ground to a halt.
Due to the nature of the road, pupils had to trek on this 17-kilometre road to and from school, farm produce were stuck in the bushes since Okada, pragia (tri-cycle) and vehicles that were supposed to convey them refused due to the nature of the road.
To solve this, MP for Jomoro toured and inspected these areas to ascertain the extent of the damage.
The MP, after the tour, promised to do what she could to help put the road in good shape.
The residents were full of praise for the MP when she promised to reshape the road for them.
They explained that when the road is reshaped it will allow okaka and other vehicles to ply the road to make their living a better one.
The residents expressed gratitude to the MP for showing motherly love to them.
They said they carry expectant mothers on the road to health center because no vehicle was able to ply the road but thanks to the MP, the road is now motorable for them.
They explained that the former MP, Paul Essien, was there while campaigning with a promise of constructing the road for them, only for him to turn them down after they had given him their votes.
They added that even though Madam Affo-Toffey's government is not in power, she has been able to fix and reshape the road for them.
Therefore, they pledged that nothing will prevent them from campaigning and voting for her to continue her stewardship.
The residents were of the view that political parties do not belong to an individual neither are they individual property, therefore they will vote for whoever would help them and that is exactly what they are going to do for Madam Affo-Toffey come 2024.
When asked what she would do to get the road tarred completely, the MP said such roads are beyond her capacity as an MP but she will channel it through the Roads Ministry to see what can be done.
She explained that, already, she has started talking to the sector minister on some of the deplorable roads in her constituency so the road in question would be added to it.