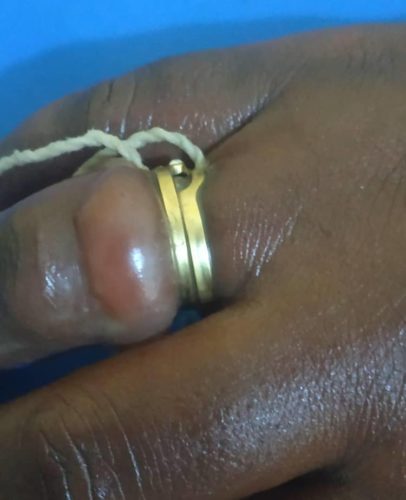 A 35 year old married woman Faustina Richster finger nearly chop off after she bought a wedding a ring from her friend to replace her lost ring.
Faustina Richster revealed that her original wedding ring lost for some months now so she confronted her friend who sold ring for replacement.
The incident happened at Kasoa in the Awutu Senya East District of the Central Region.
In an interview with Kasapa news Faustina Richster indicates that, after putting on the ring her finger started swelling after a day.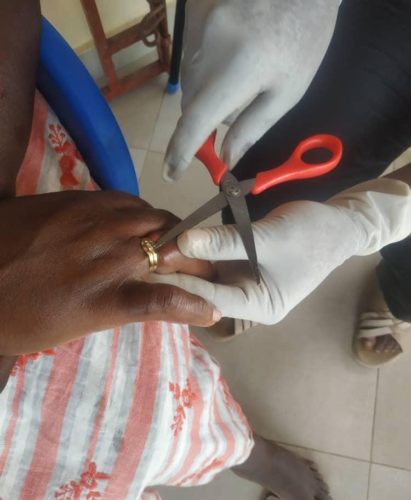 Some of the residents Shocked after hearing the incident,they said,the ring is a evil ring.
Faustina Richster said all effort to remove the stuck ring from her finger yield no results,it's took the intervention of medical officers from Kasoa Mother and Child Hospital and pastors before the ring was able to cut off.
Meanwhile Husband of the victim Nii Aryi Richster expressed shock after seeing a wedding ring cutting off woman hand.
The husband said,his wife's finger was nearly cut off and this is his first time such incident happened at their area.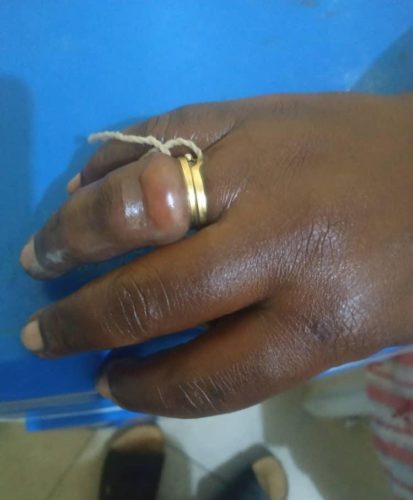 They had to pour libations and prayers before cutting off the ring with cutter.
The husband then advised the general public to be cautious when buying a ring from the shop or from friends.
Story by Yaw Boagyan