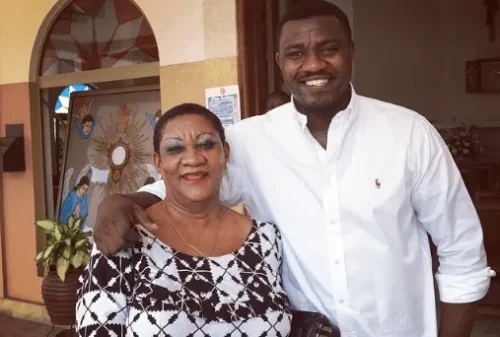 Ghanaian actor and politician John Dumelo has announced the passing of his beloved mother, Antoinette Ama Ampomah Dumelo.
In a social media post on August 16, 2023, he shared that his mother had peacefully departed the realm of the living, leaving behind cherished memories and a legacy of unwavering support.
John Dumelo conveyed his grief and loss through a heartfelt message on his official Facebook page. He expressed, "My heart is broken. My dear mother passed away peacefully yesterday… my number one supporter. Heaven has gained an angel."
Alongside his poignant words, Dumelo shared a fond photograph of himself and his mother along with other images of Madam Antoinette during her prime days.
Dumelo's mother, a retired customs officer, who turned 70 in 2022 lived a life of dedication and commitment, both in her professional career and in her role as a mother.
While the exact cause of her passing remains unknown, the news of her departure has reverberated across social media, drawing in an outpouring of tributes and consolation from not only John Dumelo's fans but also from his circle of friends and acquaintances.
The timing of this loss adds a layer of complexity to the emotions that John Dumelo is currently navigating.
The announcement comes just days after his triumphant endorsement as the official candidate for the National Democratic Congress (NDC) in the Ayawaso West Wuogon Constituency.
On Sunday, August 13, Dumelo received the party's support for the second consecutive time, marking his determined bid to serve his community in a political capacity.