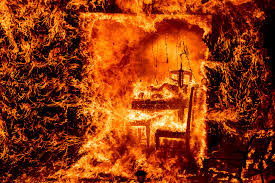 In a quiet neighborhood of Tafo, Kumasi, a 19-year-old named Gariba Arafat recently found himself at the center of a tumultuous conflict between his community's prejudices and his commitment to protecting the rights of his tenants. This heart-wrenching tale unveils the cost of empathy in a world filled with intolerance.
Gariba's journey began when he inherited a house from his late father, an unexpected responsibility for a teenager with dreams of a better future. In an act of sheer necessity, he chose to rent out the property to support his football career, daily upkeep and fund his education.
His tenants, a group of young men seeking a place to call home, appeared to be like any other residents in the area. However, it didn't take long for whispers of alleged homosexuality to circulate through the tight-knit community. Tafo, like many conservative areas, grappled with deeply rooted prejudices against LGBTQ+ individuals.
Faced with these rumors, Gariba, torn between loyalty to his tenants and community expectations, decided to confront the issue. He sought assurance from his tenants, who vehemently denied the allegations. However, the whispers persisted and soon turned into a relentless chorus of condemnation.
Determined to stand by his tenants and protect their rights, Gariba refused to evict them as the community demanded. But this choice came at a steep price. If he had agreed to the eviction, he would have been required to return the rent money, which had already been used for his basic needs.
As tensions in the community mounted, Gariba's life was threatened. The situation reached a breaking point when a mob of enraged community members stormed Gariba's house. Armed with torches and fueled by prejudice, they set his home ablaze, reducing it to ashes and rubble.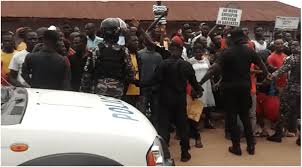 The mob, driven by anger and hate, violently expelled Gariba's tenants from the community. Gariba himself narrowly escaped the clutches of the mob, forced into a life of uncertainty and fear as he fled to protect his own safety.
The tragic events in Tafo shed light on the ongoing struggle for acceptance and the lengths to which one young man was willing to go to protect the rights of his fellow citizens.
Gariba Arafat's story serves as a poignant reminder of the vital importance of empathy, tolerance, and the courage to stand against prejudice, even when it comes at a profound personal cost.
On December 15, 2022, our team reached out to Gariba in the hopes of gaining insight into his life post-incident. However, Gariba's response was a somber reminder of the lingering fear that haunts him. He steadfastly declined to provide any details about his location, citing an ongoing fear of being pursued and attacked by members of his community.
The traumatic events that unfolded in Tafo have left an indelible mark on Gariba's life. His once-thriving house now stands as a charred ruin, a stark reminder of the violence that he endured for his principled stance.
The uncertainty of his future looms large; as he grapples with the harsh reality that he can never return to the community he once called home.
END