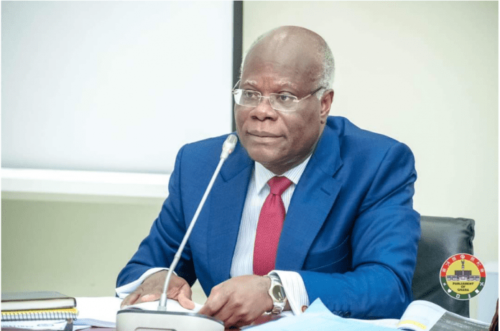 KT Hammond is the Trade Minister
The negative impact of the Covid pandemic and the Russia-Ukraine war on global economies cannot be left out in any conversation on the economy whether local of international, Ghana's Minister of Trade and Industry Kobina Tahir (KT) Hammond, has said.
He said although the opposition lawmakers in Ghana do not want to hear the President attribute the current economic challenges to the Covid outbreak and the Russia-Ukraine war, these two factors cannot be left out of the conversation as to why the economy is struggling.
He made these comments while indicating that the outbreak of the Covid pandemic and the Russia-Ukraine war negatively impacted some of the factories under the One District One Factory (IDIF) initiative.
He however said these factories are gradually picking up.
Asked how the factories have been doing while speaking on the Ghana Tonight show with Alfred Ocansey on TV3 Wednesday, June 14, the Adansi-Asokwa Member of Parliament said "To answer your question they are doing very well, not to say they are doing 100 percent well, not 100 percent because they are collapsing or falling out…[but because] we had Covid and Ukraine.
"My friends from the other aisle [NDC lawmakers] don't want to hear the President talk about Covid and Russian-Ukraine war but they are an inevitability.
"In any political and economic context, you would have to mention this double whammy of a disaster because they haven't helped anybody. So in the context of this, some of the [factories] have struggled a bit [but] they are picking up and doing what it takes."
Mr KT Hammond further said that 126 of 143 factories under the 1D1F initiative are fully functional.
The 1D1F initiative is the vision of His Excellency the President, Nana Addo Dankwa Akufo-Addo to change the nature of Ghana's economy from one which is dependent on import and export of raw materials to one which is focused on manufacturing, value addition and export of processed goods.