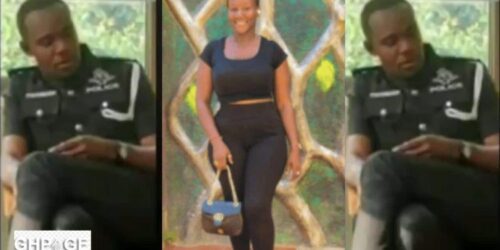 Ahmed Twumasi, the Police Inspector, who has been arrested in Adum in the Ashanti Region for shooting his lover has broken his silence over the heinous crime.
Speaking for the first time since his arrest, Inspector Twumasi said his intention was not to kill his lover, the 26-year-old mother of one, known as Maadwoa.
Inspector Twumasi who was wailing during his first court appearance on Tuesday, April 25, has since been remanded into police custody.
It has also emerged that Inspector Twumasi, committed the act after his lover refused to refund a GH¢5000 debt owed him.
According to the prosecution, investigations have established that the police officer after having a misunderstanding with the deceased asked her to refund his GH¢5000 to him.
Following her failure to refund the money, the officer then decided to shoot her which led to her death.
Speaking at the Asokore Mampong District court, the head of legal and prosecution, ACP Kofi Blagodzi described the alleged act by the police inspector as barbaric.
He noted that the police administration is saddened by the development and as such they will do whatever they can to ensure justice is served.
The police said they are particularly worried about the action of the accused since he is not a junior officer.
The accused, Inspector Ahmed was not represented by any lawyer. He is expected to reappear before the Asokore Mampong District Court on 30th May 2023.
He was arrested at his hideout on Sunday, 23rd April 2023 at Sekyere, near Effiduase, after allegedly committing the act on Thursday, 20th April 2023.
He has provisionally been charged with murder.