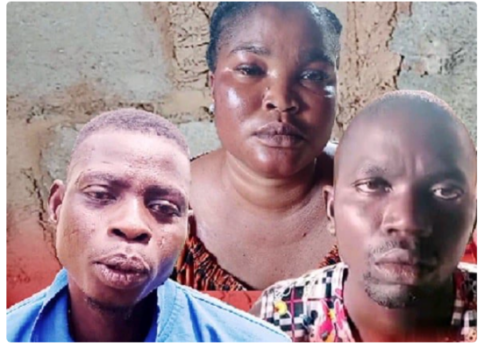 A paternity bout has broken out between a man and a herbalist who confessed to having impregnated his wife who is said to be his customer in Nigeria.
The incident occurred at Malaka village in Owode-Obafemi Local Government Area of Ogun State. The distraught husband, Sikiru Olaleye does not only have to worry about his wife cheating on him, he is also at war with the herbalist, Lamidi Ifaloba, over the paternity of the baby boy.
Olaleye, a 42-year-old native of Igbehin, also in Owode-Obafemi Local Government Area, said he was shocked to learn that the baby he thought was his was actually fathered by the herbalist who lives in the neighbourhood.
He said: "I had never seen anything like this before except in a movie. It happened that my wife Shadiat and I had a disagreement and she left for her hometown in Iwo, Osun State, with our son.
"I visited her hometown and tried in vain to persuade her parents to reconcile us. I even gave Shadiat's parents N12,000 for her transportation back to my house, but she refused.
"So, I gave up on the possibility of her returning to my home and took solace in the belief that when the time is ripe, my son would come back to me since I had tried my possible best to make her return home.
"It was a shock when some people in our neighbourhood started mocking me that my son belongs to a herbalist in the nearby village called Malaka.
"His name is Lamidi Ifaloba, a herbalist whom my wife patronised and he actually made some fertility concoctions for my wife when she could not get pregnant for about six years.
"Ignorant of what was going on, I even took the baby to him for spiritual guidance on his (baby's) future; a custom known in Yoruba culture as akosejaye, three days after my wife was delivered of the baby.
Recalling how the matter blew open, Ismaila Jinadu a.k.a. Erosion, whom Ifaloba had told that he was the real father of the controversial boy, said: "Six days before the recent Eid-Maolud festival, Ifaloba came to me and confessed that he was actually the father of Sikiru's child.
"Three days later, I called him again and Ifaloba reiterated that he had visited Sikiru's wife's parents in Iwo, where he also bought a parcel of land.
"I subsequently told Sikiru and he was initially angry that I did not inform him early about it. He however confirmed from residents too that Ifaloba claimed he was the real father of Korede.
"Sikiru is my cousin and I cannot pray that bad things should happen to him, and that is the reason I told him about Ifaloba's claim on the paternity of his son.
"I was the one who advised him to cry out to the public through the media so that he would not completely lose out since his wife has been taken by the herbalist."