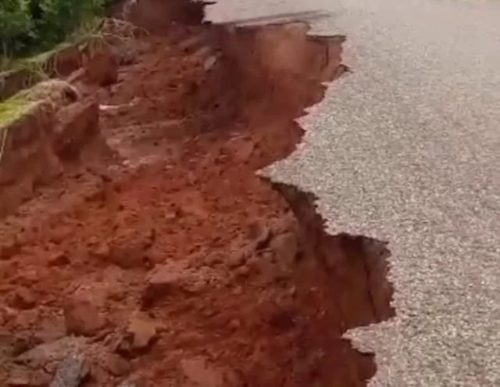 A portion of the Wa-Nadowli trunk road at Kaleo in the Nadowli-Kaleo District is nearly cut off after the Kaleo dam overflowed its banks following a downpour in the area on Saturday night.
By estimation, one-third of the road had been chopped off by the water, and a deep gully had been created along that portion of the road.
In an interview with the Ghana News Agency (GNA) in the community, Mr Fusca Ana-Ebavi Ningkpeng, the Assembly Member of the Kaleo East Electoral Area, said they feared the road might break in the event of another heavy rain.
He, therefore, appealed to the authorities, especially the Ghana Highway Authority to intervene by fixing the damage caused by the rain to avert any disaster.
"As we speak now, two vehicles cannot overtake each other at that portion of the road. It has become narrow. We have also mounted signs there to tell motorists that that area is dangerous.
"We are only hoping and praying that the necessary authorities in charge of this road will be swift in fixing this mess, else if it rains like that again this road will be cut off," Mr Ningkpeng explained.
He observed that the disaster had also destroyed people's farms and gardens along the road, while the small wells the farmers had dug for dry season vegetable production had all been filled up by the mud and gibberish leaving the farmers in despair.
"Because of the water we are not able to enter the farms but if you stand on the road and look through you will see that the water has carried the crops away. Even the trees that are there are about to fall," the Assembly Member added.
He attributed the near disaster to the failure of the authorities to desilt the Kaleo dam, which had reduced its water-holding capacity.
"Those days that the dam was not filled up with mud and rubbish, even when it rained heavily the water was not able to spill over the road much like this.
"I appealed to the Government severally to de-silt this dam, but nothing has been done yet," Mr Ningkpeng lamented.
The Assembly Member also said the lack of gutters along the main road in the Kaleo community to control the flow of rainwater had posed a serious challenge to some residents.
He said due to the lack of gutters water flowed into the homes of the people, especially those along the road, and as a result the walls of their buildings were gradually being chopped off by rainwater and appealed to the authorities for help.
Meanwhile, some portions of the Wa-Nadowli-Babile road which were cut off in August 2021 were yet to be rehabilitated.
Source: GNA