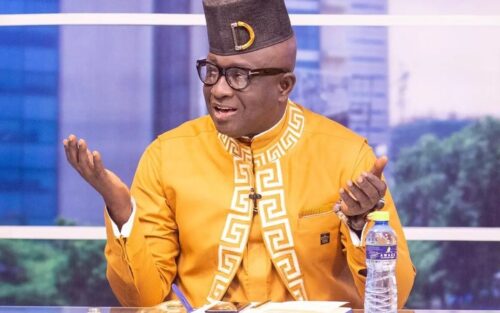 Veteran Ghanaian broadcaster, Master of Ceremonies and Chief Kwasi Kyei Darkwa well known as KKD has revealed that the New Patriotic Party (NPP) government led by President Nana Addo Dankwa Akufo-Addo has banned him from appearing on the state broadcaster, Ghana Television (GTV).
"You have instructed them not to allow KKD to appear on GTV anymore", Chief Kwasi Kyei Darkwa claimed.
KKD also revealed that he is much convinced that the decision was made by the government through the management and producers of GTV.
He also chided those behind his ban saying when they were in opposition, they were happy when some individuals including himself were criticizing other governments but when it got to a time to criticize the same people they are now hunting him down.
"At the time you needed people to speak against the government, you were talking about integrity but when we started speaking when you were stealing, you instructed them not to allow KKD to appear on GTV anymore," KKD revealed on Onua TV monitored by MyNewsGH.com.
KKD in recent times has become more of a public speaker who critically speaks against alleged illegal activities and corruption happening under the current government.
Speaking in his on Onua TV with Captain Smart, KKD stressed that, GTV is a state-owned broadcasting network, adding that there is no need for such a decision to be made; describing it as funny.
"GTV is for the country and since they said that I have never mentioned it anywhere. But it's funny. They have asked them not to allow me there and that is why I have not been there", he said.
"If they deny saying this, let them ask the Director-General of GTV, and the producers at GTV about what they told me that has made me not go there again" he challenged