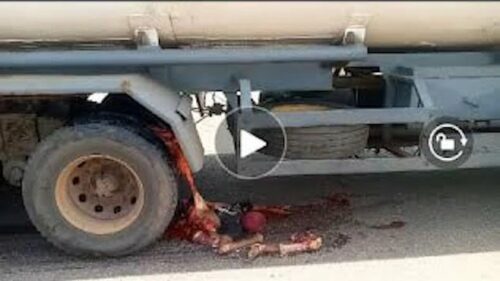 A petrol tanker on Wednesday crushed a yet-to-be-identified young girl to pieces along the ever-busy Kachia road by SAMRADA, creating tension in the area as angry youths set to unleash mayhem on the truck and its occupants.
Officers of the Kaduna State Traffic Law Enforcement Authority (KASTLEA) who were on duty at Command Junction have said to have rushed to the scene of the unfortunate incident but were prevented from doing anything by the irate youths on the ground.
According to available information on Radio Corps Marshal News WhatsApp platform, the KASLEA men were quick to alert the Police who also came and became helpless due to the number of angry people around.
As of the time of filing this report, available information revealed that military men have arrived at the scene and now putting the situation under control.
"An unfortunate accident occurred some moments ago around 911 restaurant and Samrada. A tanker ran over a girl and it was fatal. The girl was badly mutilated and still stuck in between the tyres of the truck.
"Our marshals at command junction quickly rush to the site to render whatever help necessary, but irate youths asked the marshals to leave as they plan to unleash mayhem.
"We quickly informed the police who arrived but discovered they need reinforcement which they are presently working on.
"The situation went really bad and beyond the police. So as of present, the military has been involved, hoping to diffuse the tension", the information read in part.
It is important to add that there is a road diversion in a part where the accident occurred due to the ongoing rehabilitation of the road by the Federal Road Maintenance Agency (FERMA).