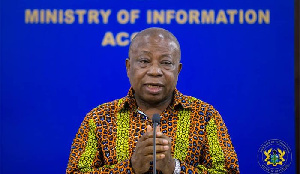 The Health Minister, Kwaku Agyemang-Manu, has disclosed that the Global Alliance for Vaccine and Immunization will soon remove Ghana from its list of beneficiaries.
According to Mr. Agyemang-Manu, the GAVI initiative will not supply Ghana with free vaccines following its attainment of lower middle-income status.
Gavi, or the Vaccine Alliance, is an independent public-private partnership and multilateral finance structure that aims at increasing worldwide access to the use of vaccines, particularly among vulnerable children.
Speaking at the commissioning of a new office complex of the Ghana Vaccine Institute in Accra, Mr. Agyemang-Manu said Ghana needs to be self-sufficient in the production of vaccines.
"While the GAVI alliance support is about 80 percent of Ghana's vaccine, our attainment of a lower middle-income status means we will have to transition from GAVI support by the year 2027."
Mr Agyemang-Manu added that the government has since developed the national vaccine policy to translate President Akufo-Addo's vision of making Ghana a vaccine manufacturing hub into a reality.