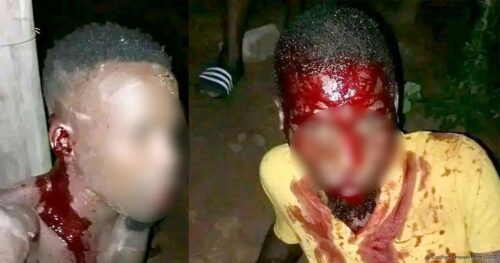 The two suspects who were assaulted by members of the community at Phalama village on Saturday night (25 February). Screen shots from video.
Two men who allegedly attempted to rob a spaza shop at Phalama village on Saturday night were rescued from the jaws of death by the police, who interceded just in time.
Three men, one armed with a pistol, were seen by a tenant who lives next to the spaza shop just as they were trying to break into the shop shortly after 20:00. The tenant immediately phoned the neighbours, who quickly rushed over to the shop.
Mr Mmbangiseni Maranda, the owner of the spaza shop, said the businessman who rented the shop from him normally closed at around 20:00 at night. "These thugs knew what time the spaza shop would be closing and took their chance. When they saw community members approach them, they turned and tried to run away. Two of them were caught, but the one with the firearm disappeared into thin air. The community members started to assault the culprits, demanding to know where the firearm was," he said.
Speaking on condition of anonymity, an eyewitness who was there when the incident happened said the suspects had been lingering in the village for at least two days before the failed armed robbery. "They have been staying with another guy from Mulodi village, who is also a well-known thug in the area. They were sitting next to my business premises on Saturday afternoon. They had a lot of tattoos on their bodies and looked very suspicious. One could see that they were up to something just by looking at them. They were very lucky that the police arrived in time. We had already bought petrol and wanted to take them to a nearby donga and burn them alive. Crime is rife in this area. We have realised that once the police arrest them, they get bail after a very short time and continue to terrorise us. We are now going to deal with them ourselves," he said.
Vhembe's acting police communications officer Sergeant Vuledzani Dathi confirmed that the police had rescued the two suspects from an angry mob at Phalama village on Saturday night. He said the two suspected thugs were not arrested, as "…the community members did not open a case against the suspects, and the suspects did not open a case against the members of the community for assaulting them, so no one has been arrested".