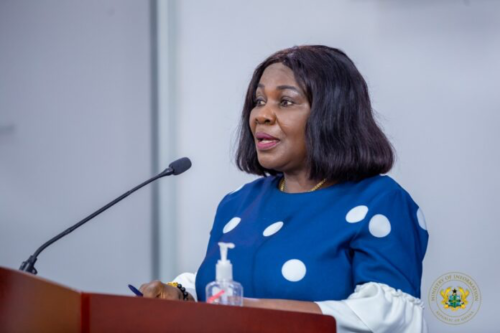 Counsel for former Sanitation Minister, Cecilia Abena Dapaah has accused the Office of the Special Prosecutor of arbitrariness in its handling of the case.
According to Madam Victoria Barth, the OSP's actions are at variance with the law that established it.
"We're relying on the deposition and affidavit in opposition which speaks to the calibre and work history of the respondent and her husband among other facts that show that the application is in flagrant breach of the applicant's enabling law and seeks to perpetuate the arbitrary exercise of powers based on nothing more than suspicion fuelled by misrepresentation of facts and resultant media frenzy."
The Office of the Special Prosecutor has filed an application to extend the freeze of bank accounts and assets of the former Minister after finding $590,000 and GHC2.730million upon searching her marital home in Abelemkpe.
In court on Thursday, August 17, Director of Prosecutions at the OSP, Dr Isidore Tuffour told the judge during a virtual hearing that an extension of the freeze of accounts and assets was necessary for investigations to continue.
"At this stage, the freezing is to facilitate the investigation of what we suspect to be tainted property and that's what justifies the freezing," he noted to the court.
But lawyer Victoria Barth objected. She argued that the fact that sums of monies were found in Cecilia Dapaah's matrimonial home is not grounds that the monies are tainted.
"There is no basis to suspect that the monies in respondents account are tainted property. Especially, when banks are routinely required on a daily basis to report suspicious transactions.
"…the application indicated that he has asked the bank to furnish him with the balances of the respondent's bank account as of 9th August, 2023.
"Therefore, the assertions that he needs to freeze the accounts to facilitate investigations is unjustified. Every information he required to now substantiate the alleged suspicion of tainted property will be contained in the bank's statement," counsel for Cecilia Dapaah told the court.
She therefore prayed the court to dismiss the application by the Office of the Special Prosecutor.
Justice Edward Twum after hearing arguments from both parties, set August 31 for the ruling on the application by the Office of the Special Prosecutor seeking to extend the freeze on accounts and assets of Cecilia Abena Dapaah