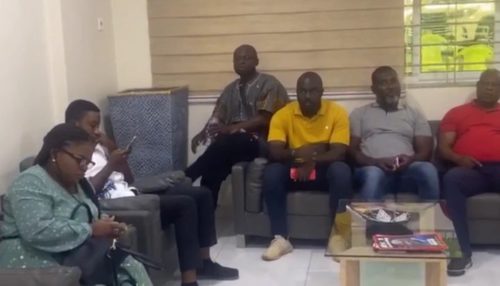 Some members of the Food Suppliers Association besieged the National Food Buffer Stock Company (NAFCO) premises to demand outstanding arrears for food supplied over two years.
Fol­lowing the sustained picketing, the Speaker of Parlia­ment sum­moned the Minister of Food and Agriculture, Bryan Acheampong to brief the House on the situation.
To the disappointment of the suppliers, the government later paid part of the debt promising to pay arrears on a later date.
Bryan Acheampong told parliament that the government still owes the food suppliers GH¢100 million after the 50% payout.
He further assured the food suppliers that the remaining payment would be made on August 17.
"I have also assured the suppliers that by 17th August, as we commenced the payment of the 50 percent on 17th of July, 2023, we will pay them. We have kept faith with the Buffer Stock suppliers," the minister during his briefing.
However, the suppliers have not received the payment, prompting them to besiege the NAFCO premises again on Friday, August 18, 2023.
They say that they are struggling due to current economic challenges and need outstanding payments to help them to stay in business.
They are therefore urging the government to keep its promise and pay the whole amount as quickly as feasible.