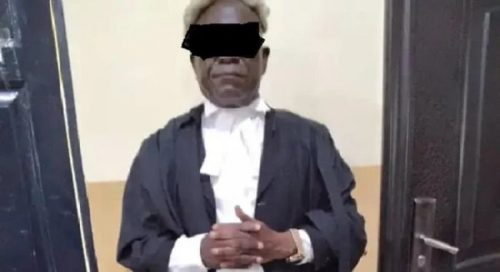 70-year-old Nii Bi Griffiths Dodoo left home for the Amasaman Circuit Court on Wednesday, August 23, 2023, as a lawyer to represent a defendant before the court, but ended up in police custody.
The judge presiding over the case issued an arrest order after discovering that the individual in question was not registered as a lawyer and did not work for a licensed law firm.
According to a report by mynewsgh.com, Nii Bi Griffiths Dodoo, a 70-year-old suspect, was dramatically apprehended by the court registrar and warrant officers immediately after the judge's order. He was then taken to the Amasaman Divisional Police Headquarters, where he was held in custody.
The arrest of Lawyer Nii Bi Griffiths Dodoo, who was dressed in a wig, bib, and gown, took place at the Amasaman Divisional Headquarters. The court warrant officers carried out the arrest under the instructions of the Circuit Judge.
According to a statement from the Amasaman Divisional Police Headquarters, the suspect presented himself as the legal representative for the defendant in a case titled Rev. Dr. Samuel Adu VRS Nii Osabu Akwei 1. He provided a practice license number (eGAR/02121/23) from Duame, George, AND Associates, along with a chamber number (ePP00217/23).
The judge's arrest order was based on a document from the General Legal Council (GLC) dated July 23, 2023. The document, signed by the Secretary of the GLC, Justice Cynthia Pamela Addo, declared Nii Bi Griffiths Dodoo to be an imposter.
An ongoing police investigation is being conducted, and the suspect will be prepared for trial. He has been charged with impersonation and unlawful practice as a lawyer, which are in violation of the Criminal Offence Act (Act 29) of 1960.