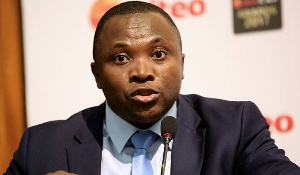 "Evildoers will not perpetuate their evil forever," says Former Communications Director of the Ghana Football Association, Ibrahim Sannie Daara following a High Court ruling on the case of defamation between Anas Aremeyaw Anas, and Kennedy Agyapong.
The Accra High Court on Wednesday, March 15, 2023, dismissed the ¢25 million defamation suit brought to him by Anas and asked the investigative journalist to compensate Kennedy Agyapong with ¢50,000.
According to the renowned journalists, justice has been served by the Accra High Court by exposing Anas Aremeyaw Anas as a corrupt and blackmailing investigative journalist
Saani Daara told GhanaWeb Sports that he is happy that Anas Aremeyaw Anas whose modus operandi, he reckons was not to seek the truth but to twist things has been humiliated in front of Ghanaians.
"Evil and evildoers will not perpetuate their wrongdoing forever. There would be justice and that justice has been served today. Today not anywhere but in the law court where now it has been confirmed, verified, and approved that Anas Aremeyaw Anas is corrupt and this is coming from the Court."
"The Court of Ghana said that he is a blackmailer. Evil and evildoers will not perpetuate their wrongdoing forever. The truth has come out in a way that has humiliated this man (Anas Aremeyaw Anas) whose modus operandi is to twist things and not seek the truth," Saani Daara told GhanaWeb Sports in an interview.
Meanwhile, Kennedy Agyapong stated that his win was dedicated to the former Ghana Football Association president, Kwesi Nyantakyi who was humiliated in the documentary in 2018.
Kennedy Agyapong also turned down the ¢50,000 awarded by the court for him and cautioned Anas to be conscious of his actions.
JE/KPE