The Electoral Commission (EC) has asked the public to disregard social media reports that one of its officers has been arrested by police officers at Somanya in the Eastern Region.
According to the election management body, claims that the arrest was effected because the said official reduced the presidential votes of the opposition National Democratic Congress (NDC) by more than 3,000 in the recently held election are untrue.But the EC in a statement issued today, Wednesday, December 14, 2020, said the reports are false and should be treated as fake.
The EC wrote:
"The attention of the Electoral Commission has been drawn to social media reports alleging that an EC Official has been arrested in Somanya within the Eastern Region in Ghana.
The fake news further goes ahead to claim that the said EC Official was arrested for reducing the National Democratic Congress (NDC) Presidential Candidate's votes by 3,000.
We wish to state that this is false. The public is therefore urged to disregard this fake news."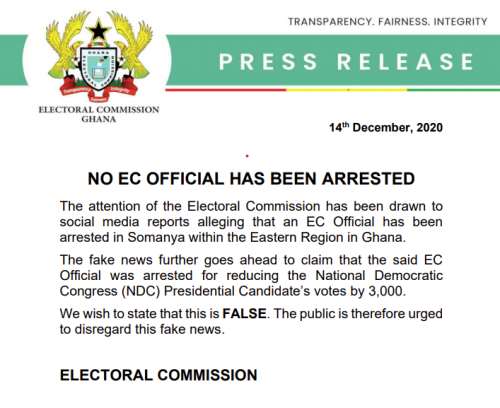 The allegations have been widely made by members of the National Democratic Congress (NDC) to buttress their claims that the 2020 election was rigged in favour of the governing New Patriotic Party (NPP).
Some posts made on social media to make the claim attached photos of some a woman who is said to be the official.
— citinewsroom