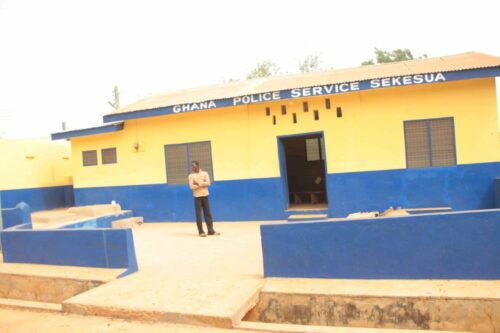 The Chiefs of Sekesua are angry over decision by the District Chief Executive for upper Manya Krobo ,Joe Sam, to stop planned reopening of Sekesua Police station which was closed down three years ago.
The police station was scheduled to be reopened by the Member of Parliament Bismark Tetteh Nyarko today February 23,2023 but the DCE says ,iron rods recommended to be fixed at the ceiling of the cells have not been done therefore won't allow the facility to be commissioned even though police officers posted to the police station have arrived to commence work.
Chairman of the Dademankyeme (Odikros) in Sekesua and its surrounding communities John Kumi said they are highly disappointed in the DCE's political interference in the reopening of the facility.
According to him, this is not the first time the DCE has demonstrated high sense of incompetence stating that, he attempted to stop the MP from constructing a market shed for gari sellers in Sekesua community.
The police station was closed down three years over deteriorating condition of the building.
The Minister of Interior Ambrose Derry answering questions from the MP for Upper Manya Krobo Bismark Tetteh Nyarko on the floor of Parliament explained that the closure of the police station on January 22, 2020 was due to the deplorable condition of the private facility which served as the police station and cells for inmates.
More so, the facility lacked toilet and bathroom therefore as soon as renovation work completes police personnel will be redeployed.
"The police administration upon analysis of the situation considered the situation to be life threatening and accordingly directed the Eastern Regional Police Command to temporarily close down the station for the facility to be renovated, while they give security cover to the area in the meantime" Ambrose Derry said
The MP Bismark Tetteh Nyarko through his share of the common fund renovated the facility ,created toilet and washroom,fixed ceiling fan, furnished with furniture and established other auxiliary offices needed in the police station.
The MP said , accommodation facility has also been secured for the police officers.
He is excited that , finally police personnel are returning to the community to boost security live and properties.
The Chiefs and people of Sekesua are happy over the reopening of the police station to given that Sekesua is a vibrant market area and preferred destination for investors in agribusiness.
Dademankye John Kumi commended the Member of Parliament Bismark Tetteh Nyarko for his commitment towards the reopening of the police station.
Source:Mybrytfmonline.com/Obed Ansah