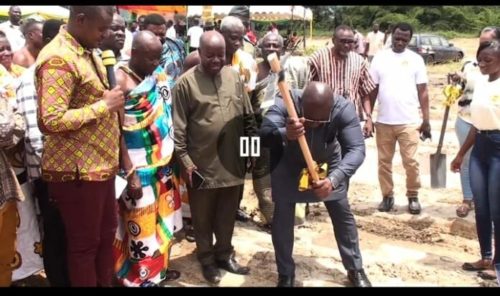 The Driver and Vehicle Licensing Authority (DVLA) is constructing a multi-purpose office complex for its branch at Dunkwa-on-Offin in the Central Region to serve people in the surrounding districts and municipalities.
The Chief Executive Officer of the DVLA, Mr. Kwasi Agyemang Busia, noted that the need for the building was consistent with the Authority's transformation agenda it had been charting since 2017.
He stated that in the last six years, the DVLA management had moved from what was described as a mediocre service institution to being the best state-owned enterprise in customer service provision in 2021.
"Seven years ago, DVLA was beleaguered with revenue leakages, inefficiency and poor corporate image but today DVLA is recognized as a world class in efficiency, leveraging digitization and showing a positive gross revenue of over 380% since 2017 and 1,012% since 2010," he noted.
Kwasi Agyemang Busia speaking at the sod cutting ceremony
The Deputy Minister of Transport, Mr. Alhassan S. Tampuli, praised the Dunkwahene, Okofrobour Dr. Obeng Nuako III, for releasing a large parcel of land for the DVLA office, noting that the Chief could have reaped millions of cedis if he had decided to sell it to private developers.
He stated that the Dunkwa DVLA had been operating from a cocoa shed, and expressed happiness that at long last a new office was going to be provided for the Municipality.
The Deputy Minister assured that the project would be completed and commissioned in a year's time.
The Member of Parliament (MP) for Upper Denkyira East, Dr. Festus Awuah Coffie, expressed appreciation to the DVLA management and the Transport Ministry for the project. He also thanked the Dunkwahene for the release of land and praised him for his commitment to the development of the Denkyira State.
Okofrobour Dr. Obeng Nuako III, who chaired the function, said he cut the sod for the construction of Sports Complex for Dunkwa some six years ago, but the project, which had one year left to be completed, was yet to be completed and charged the DVLA to ensure that the one year duration of the completion of the office block was adhered to.