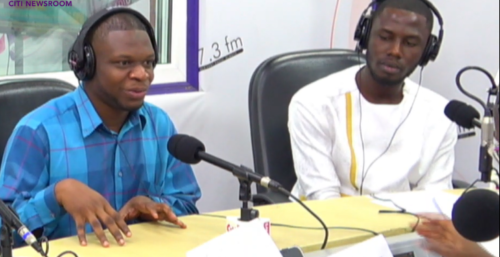 Two beneficiaries of the Citi Opportunity Project on Education (COPE), Philemon Debrah and Alfred Paa Grant, have shared their challenging but inspiring journeys to careers in medicine and architecture respectively.
COPE is a Corporate Social Responsibility initiative under the Citi Foundation providing financial support to young Ghanaians in need of it.
It is an initiative that provides scholarships to brilliant but deprived students to further their education.
The pair were on the Citi Breakfast Show on Wednesday, in the company of Citi FM's Managing Director, Samuel Attah-Mensah, to reminisce on the paths they took to their current stations.
Philemon was the winner of Citi FM's Write Away competition, now The Literacy Challenge, back in 2011 and became a COPE beneficiary after completing Winneba Senior High School, in order to further his education at the University of Ghana.
When asked why he chose to pursue two more years in medical school at the University of Cape Coast (UCC) despite having already acquired a Bachelor of Science (BSC) in Medical Laboratory Sciences, Philemon said he relished the prospect of working with people instead of constantly being locked in a lab.
"I think that I'm a people person. I love to relate to people. In a laboratory setting, you're not allowed to have patient contact. Even in the stress of everything, one of the things I relish is when you get to interact with a person. For me, it makes a difference. Directly having patient contact and being able to talk to people as they go through [their treatment] is the most fascinating thing so far," he told the show's host, Bernard Avle.
He describes his time in medical school as "interesting and challenging" indicating that there is so much to study in so little time.
Alfred also narrated his struggles to earn a place in medical school despite his impressive grades in the WASSCE (7As and a B) at St. Augustine's College.
Alfred spoke of how he worked as a teacher after SHS to raise funds to buy the application forms for the university.
He ran into a correspondent from Citi FM at an event who urged him to apply for the COPE programme.
He initially secured a place in UG to study Psychology and then Architecture at the Kwame Nkrumah Science and Technology (KNUST) in his second attempt, but Alfred had set his sights on a career in healthcare.
His eventual foray into architecture was a hesitant but ultimately fruitful one.
"I had to struggle to accept it," Alfred said of the course when asked by Bernard Avle.
"I wanted to go into medicine, but I was told by some friends at KNUST that architecture was one of the top courses. Mind you I didn't know a thing about architecture when I applied," he added.
Alfred and Philemon are unique cases of the COPE programme supporting post-graduate students, but the project has, over the years, expended over GH¢250,000 yearly on an average of 65 tertiary students, who have benefited from the scheme.
Mr. Attah-Mensah said: "We commit the processing through certain criteria to see whether indeed our involvement would make a difference in the life of the beneficiary. Ours is to appeal to people who believe in the COPE idea and are willing to support it."