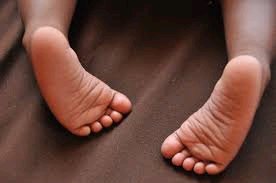 A newborn baby has been found dead at a dump site in Atekyem, Bechem in the Tano South constituency of the Ahafo region.
Prophet Robert Twum, of the Divine Prayers Ministry in an interview with newsmen narrated that he saw two ladies around the dump site at Atekyem on his way from church duties holding a child, upon approaching the ladies, he realised a newborn baby had been dumped into a bin.
"When I was returning from church, I came by a dumping site and met two ladies carrying a child, when I enquired what they were doing, one of the ladies (a child), told me someone had dumped a child in the refuse dump," he said
According to him, he called on a midwife who stays with him in the same house to examine the condition of the neonate as to whether he is alive or dead but the nurse upon arrival confirmed the child was dead.
"I called a midwife whom I share the same compound with but unfortunately, she said the new-born child was already dead," he narrated
The man of God pleaded with people living within and around to help unmask the wicked women behind this unfortunate incident for the laws of the country to take their course.
Speaking with Obaahema Akua Adantewaa and Kwaku Mensah Abrampa, both of High Radio in Bechem, the Assembly Member of the Atekyem electoral area, Hon. Appiah Joseph gave an account of the incident to the media stating that he had a distress call concerning the incident, therefore, he reported it to Bechem police command and the police has since conveyed the body to Bechem, "we are now waiting for the report from the police for our next line of action," he disclosed