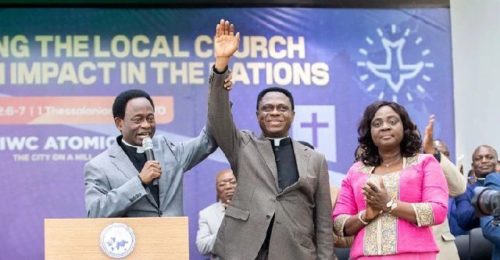 Apostle Eric Nyamekye has been officially inaugurated for his second term as Chairman of The Church of Pentecost during an induction ceremony held at the Pentecost International Worship Centre (PIWC) at Atomic in the Greater Accra Region on Saturday, September 2, 2023.
Apostle Nyamekye was confirmed for another five-year term during the 46th General Council meetings in May.
This ceremony was attended by prominent clergy, heads of churches from both Ghana and abroad, state officials, and traditional leaders.
Key figures at the event included Apostle Prof. Opoku Onyinah Rtd (Former Chairman of The Church of Pentecost), Apostle Emmanuel Agyemang Bekoe (International Missions Director), Apostle Dr. Aaron Ami-Narh (President, Apostolic Church of Ghana), and Elder Dr. Yaw Adutwum, Minister of Education, along with his deputy, Rev. John Ntim Fordjour.
Additionally, four newly-elected Executive Council Members were also inducted during the event: Apostle A.N.Y. Kumi-Larbi, Apostle Dr. Amos Jimmy Markin, Apostle Dr. Dieudonne Komla Nuekpe, and Apostle Banimpo Lare. Apostle Ebenezer Hagan and Elder Ebenezer Acheampong were introduced as the Youth Ministry Director and Deputy Director of the Pentecost Men's Ministry (PEMEM).
In his first address as Chairman for his second term, Apostle Nyamekye expressed gratitude to God for granting them the opportunity to serve in their respective capacities.
He called upon the entire church community to provide their support to help them fulfill their roles effectively.
Apostle Nyamekye highlighted the achievements of the church during the past five years, particularly in pursuing the "Possessing the Nations" agenda, aimed at impacting every aspect of society with the values and principles of the Kingdom of God.
The church saw substantial growth in membership and reached new nations during this period.
Looking forward, Apostle Nyamekye outlined the goals of Vision 2028, the second phase of the "Possessing the Nations" agenda.
This phase aims to equip and empower members to be agents of transformation in the world.
The ultimate goal is to fulfill the Great Commission by reaching people from all walks of life and promoting the values of the Kingdom of God in every sphere of society.