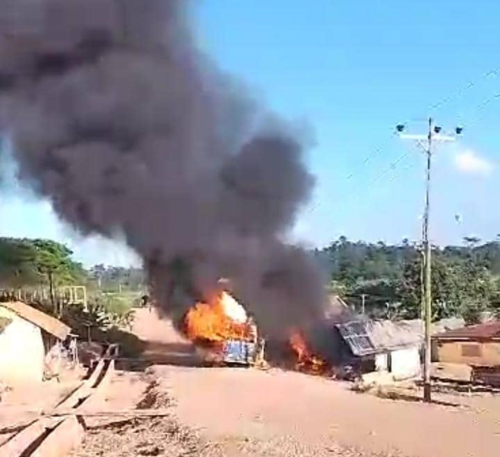 Three school kids have died after a commercial bus caught fire in the Amansie Central District town of Huu in the Ashanti Region.
Another child who suffered severe burns was also in hospital in Tuesday's blaze which destroyed the vehicle. The victims, all pupils of the Beginners Educational Complex had to be driven home in that commercial vehicle after their school bus developed a fault in the middle of the Edwenase-Huu Road.
An eyewitness says the vehicle suddenly burst into flames, trapping all passengers in the process. As some of the victims escaped unhurt, an attempt to rescue the kids however failed.
"They were six in number. Their school bus had developed a fault and so their driver had to transport them into this commercial vehicle which was heading to the same destination. The bus immediately caught fire shortly after it sped off", the witness said.
There were fuel products and gas cylinders. At a point, the rescue mission was impeded due to the intensity of the blaze. There was an explosion at some point. We were helpless", the witness added.
At least three motorbikes, a mobile money container and a power line got burnt, plunging almost the enclave into darkness. The charred bodies of the victims have been deposited at the morgue.
Residents and family members are still in shock. The development has sparked renewed calls on the government to improve network connectivity at the enclave to help deal with such emergency services.