Richard Asirifi, allegedly shot dead
Adoagyiri, near Nsawam, in the Eastern Region of Ghana has finally been turned into a gun battle field, after several warnings from factions associated with the chieftaincy dispute in the town apparently failed to attract the attention of the National Security (NS).
These factions are being backed by both Akyem Abuakwa and Akyem Kotoku paramountcies, which are claiming ownership of the town.
These two chieftaincy institutions have issued several press statements, including the holding of press conferences to warn that they are not prepared to cede an inch of the town to their opponents.
Though The Chronicle deliberately published these stories at its front pages to draw the attention of the National Security to the looming danger, it appears nothing was done about it.
The paper cannot, however, confirm or otherwise if the Kan Dapaah led NS did make the approach but the 'warring factions' failed to listen to them.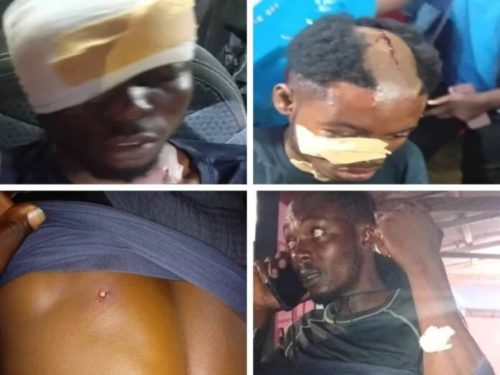 The faction, which is being supported by Akyem Kotoku, claimed Adoagyiri has a legitimate chief who was installed about fifteen years ago and had already sworn allegiance to Kotoku paramount chief.
Akyem Abuakwa rejected this claim with the Okyenhene promising to install a new chief for the town, after the one who owed allegiance to him (Okyenhene) died recently, because the land belongs to Akyem Abuakwa and he would not allow anyone to take it over from him.
Akyem Abuakwa subsequently went ahead to install their own chief for Adoagyiri, with the stool name Barima Adu Korkor III.
This decision did not go down well with the Kotoku faction, which called a news conference to threaten bloodshed if the decision was not reversed. The Kotoku faction insisted that they have a chief and would not accept any rival chief. Earlier reports suggest that this is not the first time a shooting incident has occurred in the town.
The Chronicle understands that the latest shooting incident occurred when the newly installed chief went to Kyebi to swear the oath of allegiance to Okyenhene on Tuesday.
Information gathered at Adoagyiri indicates that misunderstanding arose when Barima Adu Korkor III arrived home from Kyebi and the resultant exchange of gunfire resulted in the deaths of Kwame Apietu and Richard Asirifi.
Kwame Apietu, this reporter was told, returned from United States of America about a month ago to perform the final funeral rites of his late sister.
The bodies of the two have been conveyed to Nsawam government hospital morgue for preservation.
Those who were caught in the cross fire and suffered several degrees of injuries were also rushed to the same hospital for medical attention.
Meanwhile, the police have beefed up security in the troubled town to prevent an escalation of the already volatile situation.