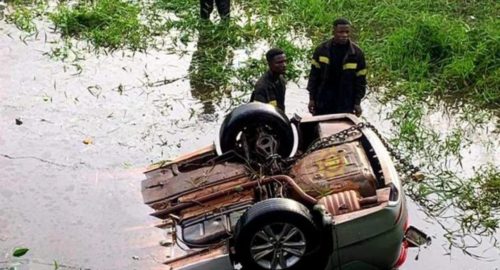 The Ghana National Fire Service (GNFS) has responded to a tragic road accident that occurred on the Accra-Kumasi highway at Enyiresi near Anyinam, in the Eastern Region of Ghana.
According to reports, the accident, which involved a Hyundai Sonata vehicle with registration number GS 7776 – 19, occurred on Wednesday, May 18, 2023, at 6:10am.
Eyewitnesses say the driver of the Hyundai vehicle lost control while trying to give way to an oncoming Sprinter bus, which was overtaking another vehicle. The Hyundai vehicle reportedly somersaulted and landed in a nearby stream, where it sank instantly.
Tragically, all three occupants of the Hyundai vehicle, consisting of two females and a male, were trapped and subsequently drowned in the stream. Their lifeless bodies were later retrieved and subsequently handed over to the police.
The police then deposited the bodies at the Enyiresi Government Hospital Mortuary for preservation and further investigations.
Rescuers from the Anyinam Fire Station were quick to respond to the scene, where they assisted in the rescue operation.
Speaking to the media, the GNFS Public Relations Officer for the Eastern Region expressed his condolences to the bereaved family and urged all drivers to be cautious and possess better road sense to avoid such unfortunate incidents.