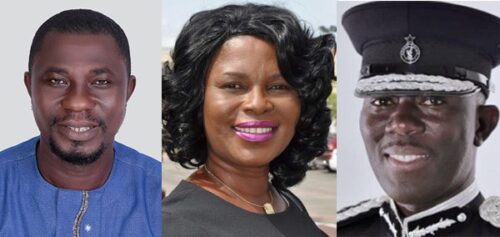 The Member of Parliament for Ashaiman, Ernest Norgbey, has expressed profound gratitude to the Inspector General Of Police( IGP), Dr George Akuffo Dampare for swiftly arresting key suspects in the matter of the murdered soldier in Ashaimam.
He said the Police, headed by the IGP, has proven to be on top of security by achieving what the soldiers could not attain with their brutal invasion of Ashaiman over the murder of the 21 year old soldier, Imoro Sherif who has since been laid to rest .
According to the MP , the IGP was in the area throughout the night and at the dawn of Friday, March 10 , 2023, to ensure that the suspects were arrested.
This , the MP explained demonstrated the commitment of the IGP in bringing the perpetrators of the heinous crime to book and the fighting of crime in general in the country.
The arrest of the key suspects in the murder of Trooper Sherif Imoro, therefore makes nonsense of the brutality of the people by the Military High Command which saw some 184 people picked up by the Military, but later released.
All manner of people mostly the youth, were beaten and others made to roll over in mud by the soldiers who did that to look for the killers of their colleague.
The MP, who was Speaking to Journalists on the arrest of the key suspects, indicated that the suspects were arrested when the Police took over and this is because it is their specialty.
The Military, the MP, further pointed out are known for killing and should not have been allowed to storm a civilian community the way they did.
Commenting on this latest development, however, Non Governmental Organization ( NGO), Peace Watch Ghana ,which is dedicated to the fighting of crime and promotion of safety and security in the country also urged officers of the Ghana Police Service to support the IGP to deliver more on his mandate.
It's chief executive officer, Madam Diana Yonkopa Daniels, called on the officers to demonstrate selflessness to complement the vision the IGP has for the country.
Already , the IGP has received lots of commendation for the facelift he has given to the frontage of the Police headquarters.
Last week also saw the commissioning of seven new police command across the region. This preceded the setting up of another command in the Central region.
But according to the CEO of Peace Watch Ghana, more can be achieved if the officers of the service do well to erase the corruption tag by exhibiting more professionalism in the handling of crime and security without being influenced by material benefits.