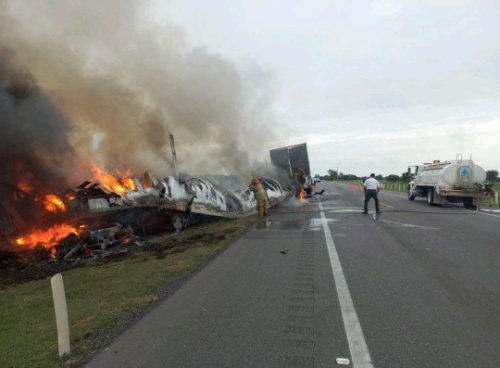 Volodymyr Zelensky has been to Buckinghamshire to meet with…
After four guys were rescued from the River Soar…
A body has been discovered in a McDonald's walk-in…
Communications to coastal areas have been cut off by…
One of the worst days for the Russian air…
Authorities believe a school teacher who was attacked by…
A Chinese court has sentenced an American citizen, age.
Despite previously advising a lower offer, the head of…
President Volodymyr Zelensky has said in Germany, where Kyiv…
Mae Muller entered the Eurovision Song Contest riding a…
After a horrific collision with a vehicle, a minibus caught fire, killing at least 26 people.
According to reports, there were several kids and a newborn on board when the horrible collision occurred in Mexico early yesterday morning.
The van was struck head-on by a tractor trailer on a highway in Tamaulipas, a state in northeastern Mexico, and both cars took fire.
The passenger van was completely destroyed by the fire, as seen in horrifying photographs released by the authorities.
The lorry was also severely damaged in the collision on a road between the towns of Guemez and Zaragoza.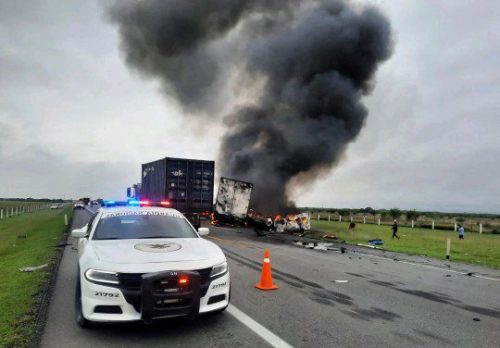 According to local media reports, the victims may have all been members of one family who had rented the van to drive to the northern city of Monterrey in Veracruz.
Tamaulipas's public security ministry said once authorities arrived at the site, they found the truck carrying the trailer was no longer at the scene.
A firefighter tries to extinguish a fire at the site of a crash, in the Victoria-Zaragoza highway, Tamaulipas, Mexico, May 14, 2023
At least 26 people, including children, were killed in the crash (Picture: Reuters)
Emergency services have been dealing with the tragic incident in Mexico
Emergency services have been dealing with the tragic incident in Tamaulipas, Mexico (Picture: AFP)
A source at the Tamaulipas prosecutors' office said investigators were unsure whether the driver of the truck had fled or if he was also killed in the crash.
Passengers travelling in the van, believed to be from a private transportation business, included children, the source said.
The victims are all thought to be Mexicans as national IDs have been recovered from the scene.
Tamaulipas state governor Americo Villarreal Anaya said yesterday: 'I deeply regret the tragedy recorded this morning on the Guemez-Zaragoza highway, where innocent people lost their lives.
'My condolences to their families.
'I have given instructions to investigate the cause of this accident and also to provide all possible help to the bereaved families.'