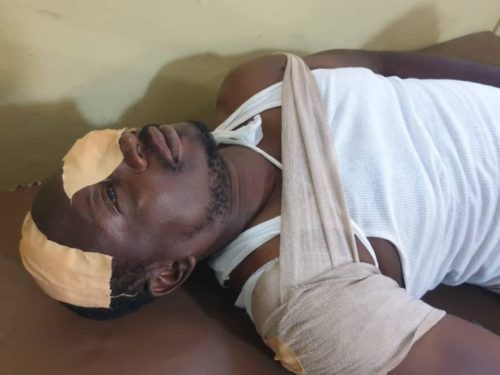 Assailants using wooden clubs and iron bars assaulted a suspected gay from his bed, saying that they were going to "cleanse" their neighborhood of gay people.
Abdul Kabir Suala, who comes from a family of prominent Islamic scholars who are passionately opposed to LGBT behaviors and related issues, was kicked out from Tafo, Ghana's largest Muslim community. Mr. Suala, a community champion for LGBT rights, was attacked and punched by residents who yelled nasty insults at him and chased him out.
Mr. Suala was also informed that if he returned to the community, he would be lynched if he was caught anywhere near a Muslim community in the country. Mr. Suala's identity has been disclosed to other Muslim communities in the country in order to ensure that he never finds refuge anywhere.
Over the phone, he said that he didn't know whether he would survive the attack, which occurred in the early hours of February 13, 2023.
"I don't think I'd get another chance to live if these people got a hold of me again. Even where I am now, I've received terrible threats. Some say they'd look for me anywhere in the country and kill me," Mr. Suala added over the phone.
"I need to find refuge somewhere to tell my story one day."
Mob violence against LGBT individuals and activists is frequent in Ghana, but the government's unwillingness to put a stop to it is compounding the situation.
Some use the gay law to legitimize violence against Ghanaians based on their sexual orientation because notable Ghanaians reject it. The recent attacks on Mr. Suala have aggravated the situation.
Mr. Suala was seriously hurt and battered, and he was treated in a private clinic that he refused to name for fear of being attacked. He said that he had to flee the health institution during the night of February 20, 2023 in order to avoid further attacks by community youth.
Dozens of people have died in similar circumstances, over accusations of their involvement in LGBTQ activities which is totally forbidden in many Ghanaian communities.
Another man was recently assaulted and his room looted by adolescents in the same town who accused him of homosexuality. For his own safety, he has since fled the country.
For security reasons, Mr. Suala declined to divulge his current location. He has stated that his life is in danger and that he does not want to return to his family home or anywhere near his attackers who are currently seeking for him.
End