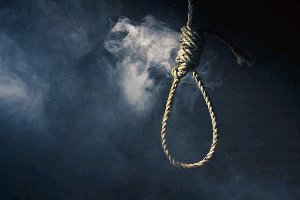 The people of Agric Junction, a suburb of Takoradi woke up in shock to hear the death of a security man known as Musa in the early hours of Saturday, April 29, 2023.
51-year-old Musa had reportedly hanged himself in an uncompleted building he guards every day.
According to the deceased's brother, Haruna Seidu, Musa has been drinking recently and that has changed his lifestyle.
He said, "Musa came to me yesterday, came to tell me that he (Musa) died but he didn't see my father and brother who had died already, but since he drinks alcohol, I didn't take him seriously only to hear of his death this morning".
"I received a call early this morning from his master (the owner of the building he guards) that Musa has committed suicide, I quickly rushed to the scene to realize it was true," he added.
An eye witness, who gave his name as Osofo Emma in an interview said "I came early this morning and no one knows what caused him to commit suicide. We only saw his lifeless body hanging up".
Musa has two children with his divorced wife.
Residents in the area were shocked to hear of his death because they see him to be a quiet person.
"I always see him around anytime he comes to work. He greets me all the time and never looked like anyone who had a problem that could lead to suicide," a resident told GhanaWeb