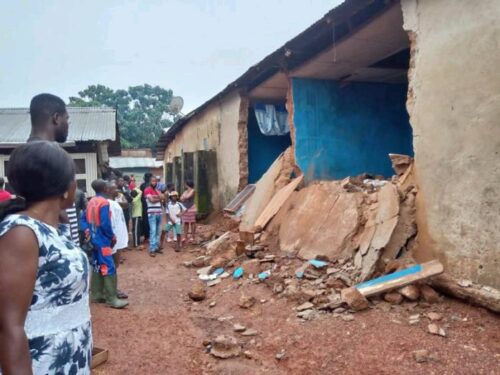 A mother and her 11-year-old daughter, have lost their lives due to heavy rainfall that caused a building to collapse at Sehwi Bekwai, located in the Bibiani Ahweaso Bekwai Municipality of the Western North Region.
One other individual has sustained serious injuries and is receiving medical treatment at Greenshield Hospital at Bekwai.
The Assemblyman for Sehwi Bekwai Zongo Electoral Area, Kwasi Prince, confirmed this unfortunate incident to Adom News, stating that it occurred on Thursday night.
According to him, the neighbours notified him when a section of the building collapsed, trapping people inside.
Despite rescue attempts, Precious, the 11-year-old girl, was found dead on the spot, while Dorothy Darkowaa and her son were taken to Greenshield Hospital.
However, the mother was pronounced dead upon arrival, while her son is currently recovering. Okyeame Kwadwo Nkansah, the deceased's brother, stated that the building had been standing for 70 years without maintenance due to financial constraints.
The bodies of the deceased have been transported to the Sehwi Ahweaso mortuary, and the police are currently investigating the matter.