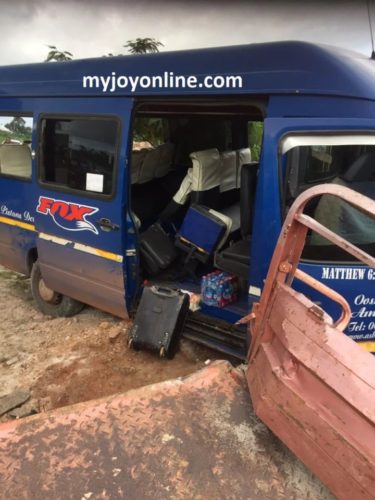 Two people have been killed in a gory road accident involving a Mercedes Benz Sprinter bus and a tricycle at Nyinahin in the Ashanti region.
The Sefwi-Bekwai-bound bus, travelling from Kumasi crashed the tricycle, killing the rider instantly on Sunday, September 3, at about 5:50 p.m.
The rider's assistant, Frankie, was also pronounced dead a few minutes upon arrival at the Nyinahin Government Hospital.
Eyewitness say the rider of the tricycle with registration M-21-AS 2962, travelling from Agogoso to Nyinahin was busy on his phone whilst riding ahead of the bus on the main Kumasi-Bibiani Highway.
The driver of the Sprinter bus, with registration AS 2831-21, warned the rider through his horns in an attempt to overtake the tricycle.
It was after one of such warnings that the Benz bus crashed into the tricycle, killing the rider instantly at a section of the road opposite the Nyinahin public cemetery.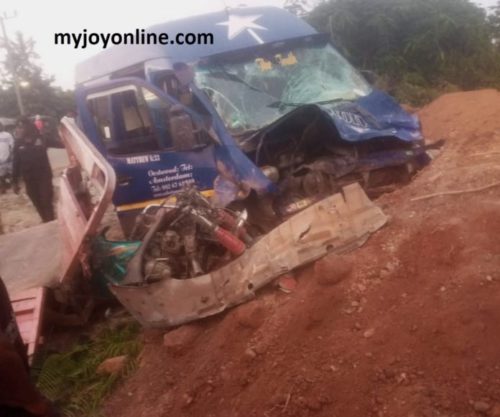 The tricycle is said to have crossed the bus in its attempt to overtake it.
Nyinahin Sprinter-Tricycle accident www.myjoyonline.com
Both the Mercedes Sprinter Benz bus and the tricycle suffered damages
The rider is believed to have died from head and chest injuries whilst the pillion rider also sustained injuries.
The bodies of the deceased have been deposited at the Nyinahin Government Hospital morgue, pending police investigations and autopsy.
On July 29, 2024, the Juaboso MP, Kwabena Mintah Akando, was involved in a near-fatal lorry accident, a few kilometres from Sunday's accident scene.
The bodyguard and driver of Parliament's Ranking member on the Health Committee were also injured in that accident after the MP's official vehicle collided head-on with an oncoming Sefwi Yiawso-bound bus on the outskirts of Nyinahin.